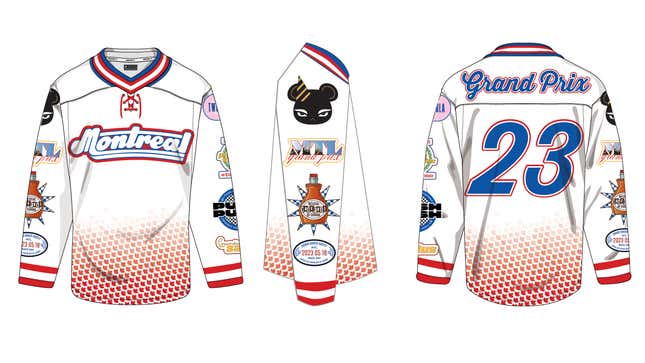 Formula 1 has had a problem for quite a while: Its merchandise, honestly, kind of sucks. If you've been looking for anything cool, cute, or comfortable for a more petite frame, you've been shit out of luck. But podcasts like Two Girls 1 Formula are taking the lead in the motorsport merch arena by releasing their own limited run of customized hockey jerseys in partnership with Rare Breed BX and designed by Riley Girmann as a way for fans to celebrate the 2023 Canadian Grand Prix.
Chase Elliott Explains the Challenge of Adapting to NASCAR's Next Gen Car
"We first started designing our own Formula 1 merchandise because we were exhausted by sifting through the bland 'women's cut' polos that seemed to be the only options available," Kate Lizotte and Nicole Sievers, TG1F co-hosts, told Jalopnik. "We wanted to see designs and products geared towards modern-day fans, like bucket hats, crop tops, tote bags, phone cases, and more, so we decided to do it ourselves and provide our community with designs by fans for fans."
In the past, that has included limited-edition, race-specific merch drops (my personal favorite being the Western-themed collection that popped up for the 2022 United States Grand Prix). That has also meant things like Formula 1 Direction merch and F1-themed podcast-centric patches. Now, it means the Rare Breed BX partnership. And, as a longtime F1 fan myself, I can't express enough how cool it is to get my hands on things like cute crop tops and sweaters that don't literally consume my frame but that can also show my passion for F1.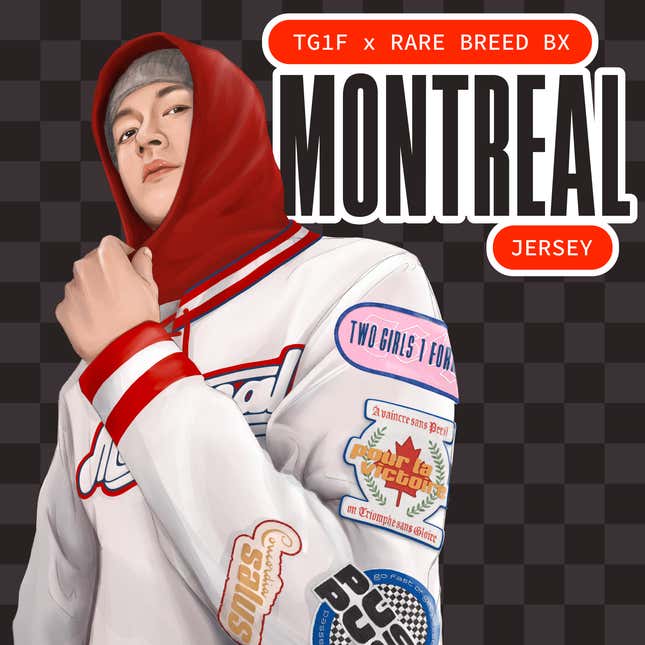 "To create this F1/hockey crossover jersey, I pulled a lot of inspiration from vintage racing jackets and old-school patch advertisements, and the striped cuffs were modeled after my dad's old college hoodies," designer Girmann said."I love playing around with typography, so I based a lot of the patches on vintage car ads. We also really wanted to add in a fun Montreal-specific easter egg, so the font on the front of the jersey is custom-made to match the old Montreal Expos logo. I'm really hoping that the closer people look at these jerseys, the more fun details they'll notice and realize how much care and attention went into them."
Lizotte and Sievers doubled down on that exclusivity: "For people who haven't watched Formula 1 before, they won't see any meaning to the hats. But for fans of the sport, it'll be an instant conversation starter. That's what we wanted to do with these jerseys. At a first glance, these are hockey jerseys with fun patches and an exciting design. But for F1 fans, they'll know the meaning behind every aspect and have a super unique, fun piece of F1 merchandise that hasn't been done before."

Rare Breed BX, a luxury sportswear brand that specializes in crafting customizable jerseys, seemed like a perfect fit for this year's Montreal Grand Prix merch drop. Standard jerseys (shown at the top of this story) will come in at $200, while custom jerseys will clock in at $300 and will allow you to choose any name or number you want on the back of the jersey. Gabe "Starky" Stark of Rare Breed BX is stoked that this collaboration with TG1F will help the company broach the F1 market, and for TG1F, this partnership has enabled them to satisfy one of their most sought-after merch requests: jerseys for the Canadian Grand Prix.
(And, if I'm honest, I once paid $250 for a Mercedes sweater I didn't even really want because it was the only thing I could find at the merch stand during an unexpectedly cold U.S. Grand Prix. A sweater that did not suit my tastes in the slightest and that was of mediocre quality at best.)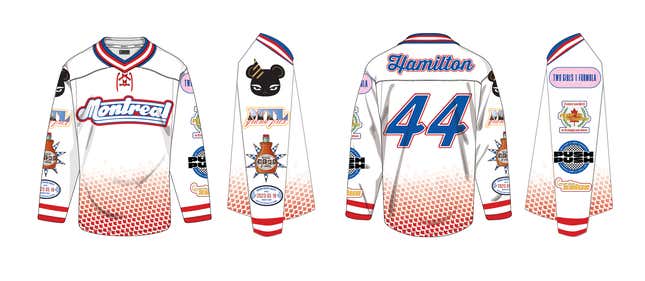 The price tag is well worth it when you consider that these limited-edition jerseys (and seriously, we're talking ultra limited edition; only 25 are going to be made) are all hand-stitched and made in the USA. The waitlist is open for fans keen on grabbing one of their own, but TG1F has been leading the way in the fan-friendly merch field since the podcast's inception; if you're looking for cute F1 merchandise that will kick off a conversation and isn't a tragically gaudy ultra-sponsored race team polo, this is the place to grab your gear.
"We live in a world where 'if-you-know-you-know' merch is at an all time high: Products that look like one thing, but take a fan to understand the true meaning, " TG1F's co-hosts told us at Jalopnik. "Our BOX BOX BOX hats are a perfect example. For people who haven't watched Formula 1 before, they won't see any meaning to the hats. But for fans of the sport, it'll be an instant conversation starter. That's what we wanted to do with these jerseys. At a first glance, these are hockey jerseys with fun patches and an exciting design. But for F1 fans, they'll know the meaning behind every aspect and have a super unique, fun piece of F1 merchandise that hasn't been done before."