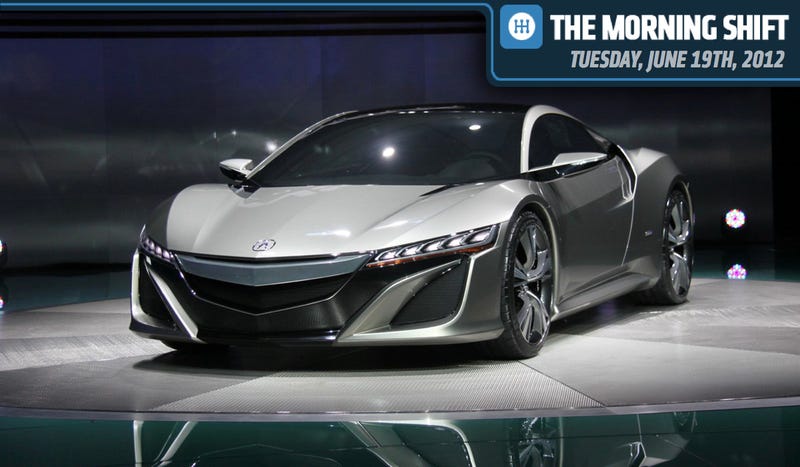 The Morning Shift
All your daily car news in one convenient place. Isn't your time more important?
This is the Morning Shift, our one-stop daily roundup of all the auto news that's actually important — all in one place at 9:00 AM. Or, you could spend all day waiting for other sites to parcel it out to you one story at a time. Isn't your time more important?
---
1st Gear: The Beak Gets The Tweak
Oh, Acura. Your cars are still moderately average. Certainly, an Acura TSX Sport Wagon is a reasonable alternative to the Lexus ES. The Acura MDX is a competent handler and the RSX has always had a modicum of charm. Yet, for us to enjoy an Acura we'd have to look past the nose. At one point, the corporate beak was the cause of half the brand's walk-aways. Since then, they've toned it down and now Automotive News (sub. required) is reporting that the brand's new chief designer, Toshinobu Minami, is backing further away without fully committing to changing the design language. He told reporters "We concede that we went a little overboard at some points."
---
2nd Gear: Fire In The Hole
We used the flaming Toyota image a day too early, as the National Highway Traffic Safety Administration announced yesterday it was intensifying its investigation into 1.4 million Toyotas and 342,000 Chevy Trailblazers over defective power-switches that might lead to… fiery death. Thankfully, the New York Times reveals that in 161 fires there have only been nine fiery injuries.
---
3rd Gear: Smart Bringing Us Another Special Edition
Benz Insider has images of the 2013 Smart ForTwo Iceshine special edition. These cars will come in all-white trim only with black leather heated seats, power steering, and LED daytime running lamps. We'll get 300 of these models here in the U.S. of the 1,800-unit run. Wait, can you call a 300-model run a special edition when you're barely selling 1,000 cars a month?
---
4th Gear: Your Car Makes You Fat
The London School of Hygiene and Tropical Medicine (Colonialism!) determined that we're ridiculously overweight. One of the causes in places like Kuwait, Croatia, Qatar, and Egypt is the influence of car culture. That's what the BBC calls it. "Car Culture." We'd call it "Bad Car Culture." If you rely entirely on your car to get everywhere you're missing the point of what's great about cars. Commuting sucks. If possible, walk to work and walk to the grocery store, then save your gas for fun twisty roads. Are you listening Kuwait?
---
5th Gear: Dany Bahar Finding New Ways To Kill Lotus
Dany Bahar, no one's favorite former Lotus CEO, was let let go earlier this month over charges of misusing the company's funds to fly around the world and redo his houses. Now Auto123 is reporting that Bahar has decided to sue Lotus parent company DRB-Hicom over wrongful termination. He might have a case, as the reason given should have been because he was terrible. That would be rightful termination. We hear he's hoping the Baldwin family will provide funds for his defense.
---
6th Gear: Skoda Gets Rapid Again
Skoda continues to make more attractive versions of Volkswagen models, this time reviving the Rapid name for a compact sedan. Unlike Volkswagen, Skoda doesn't have a Golf-like model to sell, so the new Rapid will slot in to fill the space between the Fabia and Octavia. As with most European VAG products it'll come with seven engines (five gas, two diesel) and a wide range of options and trims. We like it. It'll be cheaper than the Golf and give value buyers in Europe a model that looks much better than the current Jetta for a much better price. We can't wait for a vRS wagon version.
---
Reverse:
Family Dispute Leaves Carroll Shelby's Body In Dallas County Morgue [The Dallas Morning News]
Chinese Submarine Breaks Deepest Dive Record In Mariana Trench [Bloomberg]
Road & Track Magazine Plans Move To Ann Arbor [Crain's Detroit]
2012 Chevrolet Camaro ZL1 Vs. 2013 Ford Shelby GT500 On Track [AutomobileMag.com]
Porsche's Boxster Road Trip Shows How NOT To Run A Digital Campaign [Skiddmark]
Ship Carrying Russian Attack Helicopters To Syria Halted Off Scotland [BBC]
---
Today in Automotive History
Remember the 2005 United States Grand Prix? We've also tried to forget it. If you weren't watching F1 back then you might have missed a tire controversy over the safety of the Michelin tires at Indianapolis. The company attempted to send different tires to the race but the FIA refused, citing their rules. They also refused to build a chicane or do anything to slow down the race. Ultimately, 14 cars refused to compete, leaving just six cars running Bridgestones to race. Fans booed, threw beer bottles, and left early. The event directly led to the failure of F1 racing in the United States.
[History]
Show us your tips!
Got tips for our editors? Want to anonymously dish some dirt on a competitor? Know something about a secret car? Email us at tips@jalopnik.com.
Lost in our new layout?
Click here for the Opposite Lock or Tips forums. Want a more "blog-like" look? Click the button up top next to "Top Stories."
Get more Jalopnik!
Want even more Jalopnik? Want to know which of your friends read us? "Like" us on Facebook and follow us on Twitter.