Good morning! Welcome to The Morning Shift, your roundup of the auto news you crave, all in one place every weekday morning. Here are the important stories you need to know.

1st Gear: This Isn't Good
Among the litany of policy changes put forth by President Donald Trump's administration, two in particular stand out for the auto industry: the reconsideration of fuel economy standards set by Barack Obama and the decision to back out of the Paris Climate Accords.
Generally, both set targets for reducing global warming and, for the auto industry, that meant a focus on using alternative fuels and cutting emissions. The fuel economy standards, specifically, were held out as the hallmark of Obama's initiative to tackle global warming.
I say all of this, because Bloomberg added some relevant context this week to the discussion: for the first time in 40 years, cars and the transportation sector have overtaken power plants as the single biggest source of U.S. greenhouse gas pollution.
G/O Media may get a commission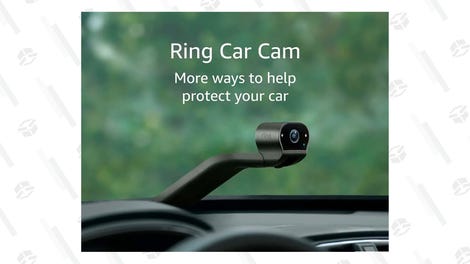 Here's more from Bloomberg:
The big reversal didn't happen because transportation emissions have been increasing. In fact, since 2000 the U.S. has experienced the flattest stretch of transportation-related pollution in modern record keeping, according to data compiled by the U.S. Energy Information Administration. The big change has come from the cleanup of America's electric grid.

...

The transportation sector is also entering a critical period of reformation. Cars are becoming more efficient under aggressive pollution rules passed under President Barack Obama, but that's so far been offset by an ever-rising American appetite for SUVs, crossovers and pickup trucks. Even the nation's clean-air policies could soon change. The Trump administration is considering rolling back the toughest fuel-efficiency standards, which are set to take effect in the early 2020s.
It may seem inconsequential in the grand scheme of things—many complaints around the Paris accords was that it didn't do nearly enough—but it's worth remembering how much the auto industry factors in to global warming. That seems to have been lost this year.
2nd Gear: NAFTA, Still Going
"Insane" or not, the U.S. forced Canada and Mexico into renegotiating terms of the North American Free Trade Agreement—and despite the sky-high pressure thanks to the Trump administration's demands, Canada's ambassador to the U.S. feels a deal can still be hashed out by March. How optimistic!
Here's Automotive News with more:
"I hope we get there by the end of March, certainly I think NAFTA has been good for all three countries," David MacNaughton said Thursday during a Bloomberg TV interview in Washington. "We've put some pretty constructive alternatives on the table."

Negotiators from Canada, U.S. and Mexico have already finished updating several chapters of the 1994 pact and are getting close on several others, MacNaughton said.
Reps from Canada and Mexico head back to Washington on Monday for another round of talks. Trump's still holding out the possibility of exiting the pact entirely, which could present some serious ramifications for the industry. Trump's demanding a five-year sunset clause and higher content rules for automakers, including that 50 percent of auto parts should be originated from the U.S.
Mr. Positive Ambassador from Canada still isn't worried. "We still think that NAFTA as a three-way agreement is one that can really work," he reportedly said.
3rd Gear: Subprime Auto Loans Trending Down
For years, lenders were issuing subprime auto loans like they needed to fill a gaping void left by the lack of subprime mortgages they could churn out. This caused serious issues, with loans for subprime borrowers accounting for roughly 25 percent of the market.
Amid the very vocal concerns being broadcasted about subprime auto loans, the percentage of them issued in the third quarter declined again, hitting the lowest total since 2012.
Here's more from CNBC:
Overall, 25.67 percent of the auto loans written in the third quarter were for borrowers with subprime or deep subprime credit ratings. By comparison, just over 62 percent of the loans written last quarter were for borrowers with prime and super prime credit scores, according to Experian.

The drop in subprime loans comes after months of warnings from critics that banks, auto finance companies and credit unions have issued too many loans to buyers who will be unable to repay them.
The truth is that banks and auto finance companies have been issuing an abundance of loans to borrowers with checkered credit. The reason why people were sounding the alarm this year is that delinquencies were sharply on the rise, as we reported this summer. And while auto analysts framed the decline in total issuance of subprime loans this past quarter as a Very Good Sign, it wasn't all sunshine:
In the third quarter, there was a slight decrease in the percentage of loans 30 days overdue and slight increase in those that were 60 days delinquent.
Ah, and the average term length for a new vehicle loan approached a record high of 69 months, reported CNBC. That isn't a good trend.
4th Gear: Autonomous Lyft Pilot Underway In Boston
Lyft, Uber's painful younger sibling and rival that has continued to eat away a chunk of the ride-hailing company's market share, has spent most of 2017 prioritizing self-driving cars. Realizing that seemingly every facet of the auto industry is involved in making autonomous vehicles a thing, Lyft launched a number of partnerships with everyone from Google's self-driving unit, Waymo, to tech startup Nutonomy.
With Nutonomy, the company planned to launch an autonomous pilot program in Boston, where some self-driving cars would operate off the Lyft app in the city. This week, that pilot program began, reports the Boston Herald.
"We want to let members of the public experience driverless vehicles firsthand, so they can better understand the impact this new technology will have on their lives," nuTonomy said in a blog post. "Based on feedback from pilot participants, nuTonomy's engineers will adapt and improve our system, so that we can deliver an autonomous transportation experience that is extremely safe, efficient, and comfortable."

Riders will be limited to areas where nuTonomy's cars are permitted to drive, including the Seaport neighborhood and to South Station.
Nutonomy said that "select" passengers will be able to take a ride, but it's not clear how they're becoming the Chosen Ones. If you happen to experience a self-driving Lyft car, tell us about it! We'd love to hear.
5th Gear: VW Stops Deliveries Of T6 Vans
Will emissions ever not be a problem for Volkswagen? Probably not! On Friday, the company's perpetual cycle of issues continued, when it announced that it stopped delivering T6 multivans to dealers.
Why's that? The diesel model "emitted excessive nitrogen oxide levels," according to Reuters. Great.
Reuters goes on:
Earlier on Friday German magazine Der Spiegel, without identifying the source of its information, reported that VW tests had shown that T6 toxic nitrogen oxide emissions in part significantly exceeded legal limits as VW had set an emissions-related so-called "adjustment factor" too low when seeking KBA approval for the model.

"VW commercial vehicles is looking into signs that certain technical data... cannot be fully confirmed" by reviews of the T6 model's actual and planned emission levels, a spokesman for VW's van division said.
VW's spokesperson told the news agency that it doesn't believe engine management software led to the emissions issue, but with Dieselgate hanging over its head, it's obvious why this raised a red flag.
Reverse: RIP
Neutral: NAFTA Dead?
The Trump administration's swung hard during NAFTA talks, and many think he's dead set on pulling out of the agreement. At this point, what do you think's going to happen?