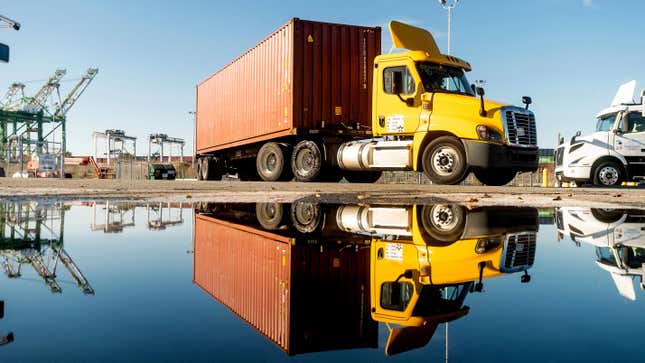 Regulators in California have voted to ban the sale of new diesel 18-wheelers by 2036 and will require all trucks to be zero-emission by 2042, according to Reuters. It's a decision that once again puts the Golden State at the front lines of the fight on vehicle pollution. The California Air Resources Board unanimously approved the Advanced Clean Fleets rule.
This NYC Garage Takes Vanlife To The Next Level | Jalopnik Visits
In case you missed it:
Short-haul big rigs, local delivery vehicles and government fleets must be zero emission by 2035. Garbage Trucks and local buses will follow in 2039, and sleeper cab 18-wheelers and other specialities vehicles must be all electric by 2042. CARB reportedly says that the reduction in pollution from these vehicles will result in $26.6 billion in health savings due to fewer asthma attacks, emergency room visits and respiratory illnesses. The move is also aiming to save about $48 billion in trucking operating costs.

The board also said fleet owners can receive exemptions based on availability technology to make sure they can replace older, more-polluting trucks with ones that run more cleanly. Still, as you may have expected, not everyone is onboard. Chris Spear, Chief Executive at the American Trucking Association, is critical of the decision.
"California is setting up unrealistic targets and unachievable timelines that will undoubtedly lead to higher prices for goods and services delivered to the state and fewer options for customers," Spear told Reuters.
According to the outlet, trucks represent only six percent of the vehicles on the road in California, but they account for more than 35 percent of the state's transportation-generated nitrogen oxide emissions and about 25 percent of California's on-rad greenhouse gas emissions.
Don't be surprised if rules similar to this one start popping up in other states. Don't forget, as goes California, so goes the nation.