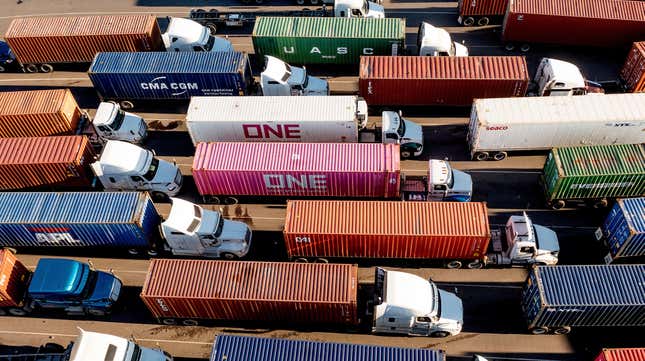 Last year, California became the first state to ban the sale gas-powered cars by 2035, the sort of policy that is forward-thinking and also the sort of policy that should've probably happened a long time ago, except nationwide. On Friday, The New York Times reported that California now has the green light to do something similar with heavy trucks, in seeking to mandate that half of heavy truck sales be all-electric by 2035.
Chase Elliott Explains the Challenge of Adapting to NASCAR's Next Gen Car
In case you missed it:
California got permission to do so from the federal government via the Environmental Protection Agency, permission which was required because California's rule would go beyond federal mandates. In some ways, the heavy truck industry — not just tractor-trailers but also cement mixers and dump trucks and garbage trucks and the like — should have seen this coming, since California originally passed the rule in 2020. They can be forgiven for not thinking that every government twitch is real, but now the Biden administration has given California its blessing moving forward with it, which the state had been waiting on.
From the NYT:
When it takes effect next year, the rule will pertain to sales of trucks ranging in size from delivery vans to big rigs. By 2035, 55 percent of delivery vans and small trucks, 75 percent of buses and larger trucks, and 40 percent of tractor-trailers and other big rigs sold in the state would have to be all-electric.

Prices for electric trucks start at about $100,000 and can reach the high six figures. Buyers, including delivery and construction companies, could get some help from last year's Inflation Reduction Act, which for the next decade offers up to $40,000 in tax credits to purchasers of all-electric trucks.

Some manufacturers have already positioned themselves to comply. Volvo, which makes tractor-trailer trucks, has set a target that 50 percent of its truck sales would be all-electric by 2030.
The NYT also notes that opposition to the rule is coming from the usual camps, which are Republicans and some in the trucking industry; the former group argues that it is government overreach to dictate what types of vehicles manufacturers can make and sell, while the latter group says that 2035 is simply too soon. Every side is steeling for a legal battle that may ultimately end up at the Supreme Court. Also, truckers, or at least independent ones, aren't too thrilled, because their costs are going to go up in the short-term. (Major trucking companies, it sounds like, are already pricing all of this in for the long-term.)
"A lot of the California truck rules that have been adopted and enacted recently are starting to push truck drivers out of the state," said Jay Grimes, director of federal affairs for the Owner-Operator Independent Drivers Association, which represents truckers. "Drivers don't want to work in California anymore. They're skeptical of the rapid timeline on this transition to electric trucks. Can a trucker get a charge that will take them on a highway for two or three days? Is the technology ready for prime time?"
For decades now, California has been at the forefront of emissions rules, given a waiver decades ago by the EPA to do their own thing on emissions and not, originally, to combat global warming or anything, but to combat smog. That California's goals have taken on additional import and urgency in an era of climate change is less mission creep than a fuller realization of what the problem is: smog is bad and must be dealt with, and climate change is even worse.