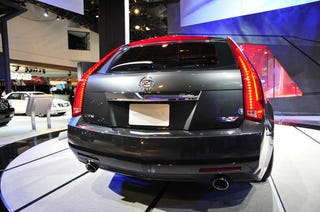 This is the Cadillac CTS-V Sport Wagon. It is a staggeringly irrelevant ball of horsepower and excellence wrapped up in the coolest shape to come out of Detroit in years. We love it. You should, too.
All things considered, the CTS-V wagon can be summed up in four sentences: It's coming. It's awesome. It will likely be purchased by automotive journalists and Texas oil barons and no one else. And it makes us feel warm and fuzzy.
Mmm, fuzzy hot wagon love. Mmm, LSA hoonage. Mmm, flagship D-town mom-mobile. It gets no better than this.