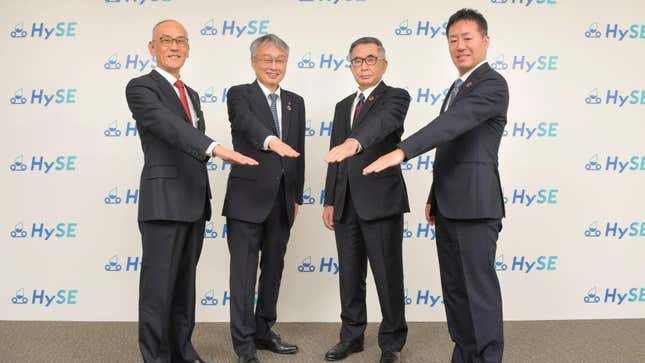 Honda, Kawasaki, Suzuki and Yamaha are following up on their agreement to standardize EV motorcycle batteries with a mad science experiment to develop hydrogen-powered motorcycles. Technically, the big four Japanese bike makers are starting a research group dubbed the "Hydrogen Small mobility and Engine technology," or HySE for short, as Ride Apart reports. The research association isn't only concerned with eventually making hydrogen-powered motorcycles, per se.

As the official release from the big four specifies, the HySE is going to study and develop the use of hydrogen to power engines that may be used in motorcycles, Japanese-originated mini-vehicles (presumably, Kei cars,) small marine vessels, construction equipment and drones, among others.
These are not, however, hydrogen fuel cell EVs we're talking about. They are more alike to the hydrogen-powered Toyota Corolla Sport, which means any possible bikes the project yields will have engines that are more or less an adaptation of current gasoline-powered engines. Yamaha's head of R and D suggests that, if successful, this project could become the culmination of the bike makers' work developing internal combustion engines.
The formal agreement between the bike makers is meant to diversify industry efforts to lower carbon emissions. The bike makers believe that decarbonizing society will require a multi-pronged approach, rather than relying exclusively on one single propulsion method, such as battery-powered EVs, which present their own set of issues.
Hydrogen also comes with its own problems, hence this research collaboration. Among these problems are how to address the challenges of hydrogen's "fast flame speed" and "large region of ignition." The idea being that hydrogen is highly unstable and prone to combustion — in an uncontrolled sense, that is. Motorcycles also have smaller fuel tank capacity than other vehicles, which could pose a challenge as far as range goes.
The major issues the HySE will tackle revolve around how to make small hydrogen engines commercially viable, studying how to develop a large-scale refueling system and studying the auxiliary equipment needed for fuel supply in the hydro-powered motorcycles, including the bikes' hydrogen fuel tanks and injectors.
The group has received the blessing of Japan's Ministry of Economy, Trade and Industry to go ahead and start working on how to commercialize hydrogen-powered engines. It's going to take a long time, and a lot of different moving pieces on a shifting board, which is why even Toyota and Kawasaki Heavy Industries is pitching in on the project.
It might take some convincing to get new and veteran riders to hop onto a volatile machine like the ones proposed by the project. Riding a motorcycle is already dangerous enough as it is, although for different reasons. Still, scientists are sounding the alarm on climate change so hail mary plays like a hydrogen-powered motorcycle are fair game at this point.