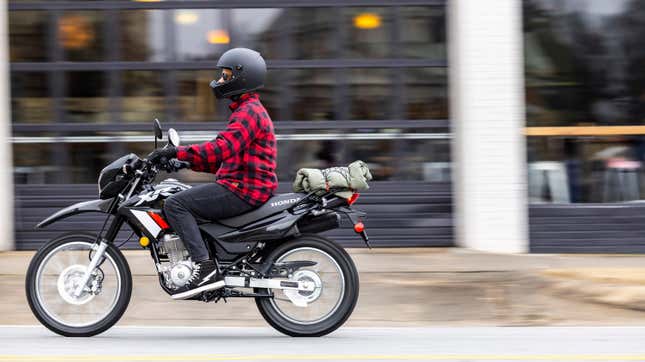 Do you want to get into motorcycling? Have you ever been even curious about life on two wheels? Do you like your bicycle, but wish you didn't have to deal with all that pesky peddling? Well, friend, Honda built a new motorcycle just for you. It's called the XR150L, and it might be the perfect first bike.
Honda's baby dual-sport combines all the factors new riders love. It's lightweight, coming at just 282 easily-manageable pounds, and it can go anywhere — roads, trails, backyards. Best of all, it costs just $2,971 before destination and freight charges.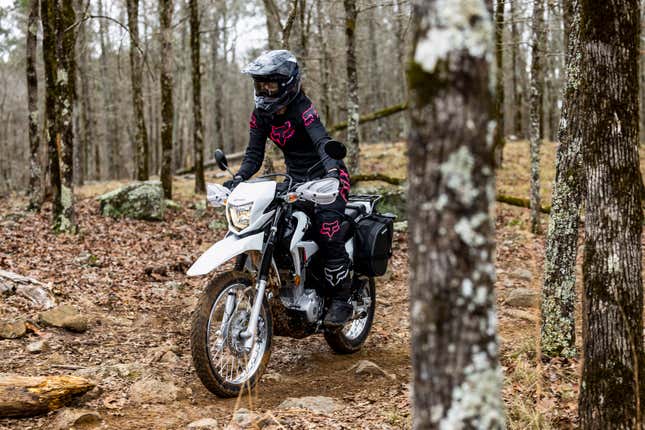 Dual-sports are perfect for beginners, many of whom would rather have their first crashes on soft dirt than hard asphalt, and the XR150L is built for that terrain. Its 19 inch front and 17 inch rear spoked wheels are a classic combo for both off-road prowess and on-road comfort, and Honda somehow fit 9.6 inches of ground clearance beneath the bike's newbie-friendly 32.8 inch seat. Sure, the XR150L's tiny engine likely won't be ideal for highway use, but most new riders want to work up to that anyway — getting the fundamentals down on slower, calmer streets first.

Of course, to keep the cost low, Honda kept the XR150L basic. The transmission gets five speeds, not six, and the front end gets one 240mm brake disc. The rear is even more primitive, with a 110mm drum brake bringing the bike to a stop. Interestingly, the bike appears to have no EU-mandated ABS, but it does have a feature uncommon among modern bikes: A carburetor pumping fuel and air into its single cylinder.
The XR150L is basic and cheap in a way we don't really see any more. It really harkens back to the Trail 90 of old, which — alongside its roadgoing sibling the Cub — remains the best-selling vehicle in history. Yet, this new dual-sport undercuts the current Trail 125 in price — further democratizing the world of two wheels.
If you've ever thought about getting into bikes, now's your chance. Honda built a motorcycle just for beginners, and for every beginner. It could be the single best bike for new riders to learn on.