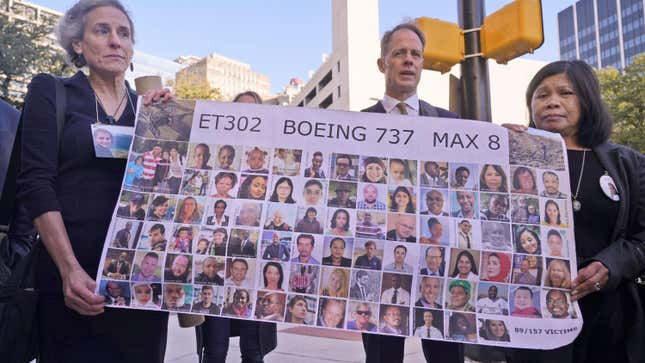 We're one week past the four-year anniversary of the crash of Ethiopian Airlines Flight 302, which went down in Ethiopia shortly after takeoff on March 10, 2019, killing all 157 people onboard. It was the second crash involving a Boeing 737 Max airplane, occurring just a few months after Lion Air Flight 610 went down in Indonesia on October 29, 2018, killing all 189 passengers. But now, in U.S. court proceedings between Boeing and the families of roughly 80 victims of the Ethiopian Airlines crash, the airplane company is arguing that it should not be responsible to pay victims' families for the pain and suffering of the passengers in the minutes before the crash — because, according to Boeing's lawyers, the crash killed everyone instantly, leaving no time for anyone to suffer pain.
In case you missed it:
The Wall Street Journal brings us the report of Boeing's baffling mental gymnastics in attempting to avoid culpability in the two 737 Max crashes that killed a total of 346 people. As WSJ reports, in a recent court filing Boeing attorneys "cited an expert who said that the 737 MAX victims died painlessly because the airplane crashed into the ground so fast that their brains didn't have time to process pain signals from their nervous systems."
It's a legal gambit that, hypothetically at least, could work in Boeing's favor. This particular case is playing out in Illinois, where Boeing was headquartered at the time of the crash (the company has since moved to Arlington, VA). Boeing's attorneys argue that, under Illinois law, if there's not enough evidence that passengers suffered pain and suffering in between their injury and their ultimate death, the aerospace company should only be responsible to pay grief and loss damages to victims' families.
"Boeing recognizes the tremendous tragedy suffered by the families," attorneys wrote in a filing from February 27th viewed by WSJ. However, the attorneys argue that Illinois laws "provide that evidence of passengers' pre-impact pain and suffering may not be admitted to support a damages award in this case."
A Boeing spokesperson told WSJ, "We have acknowledged the terrible impact of these tragic accidents and made an upfront commitment to fully and fairly compensate every family who suffered a loss," the spokesman said.
The company's ghoulish tactic is aimed at avoiding a compensatory payout that could run into millions of dollars per plaintiff, sources told WSJ. The airplane manufacturer struck a deal with plaintiffs in 2021 where Boeing admitted responsibility for the Ethiopian Airlines crash, and plaintiffs backed away from seeking punitive damages — in other words, a fine tantamount to punishment.
Boeing's lawyers argue that evidence of passengers' pain and suffering as the plane went down "would prejudice and confuse the jury," as WSJ put it, "possibly leading them to award plaintiffs an amount that is tantamount to punitive damages."
The airplane company hired an expert witness — Jonathan French, described as an expert in human factors and aerospace physiology — who said in a court filing that "While passengers undoubtedly perceived the flight as scary, humans have a tendency to hold on to hope and not expect the worst [...] Ultimately, it is impossible to know the subjective experience of each occupant," WSJ reports.
"Jurors would inevitably sympathize with testimony about the passengers' alleged fear of impending death and imagine themselves in the passengers' shoes," Boeing attorneys wrote in a filing viewed by WSJ.
Plaintiffs aren't buying it, writing in a court filing that passengers on Flight 302 "undeniably suffered horrific emotional distress, pain and suffering, and physical impact/injury while they endured extreme G-forces, braced for impact, knew the airplane was malfunctioning, and ultimately plummeted nose-down to the ground at terrifying speed," WSJ reports.
The airplane manufacturer reached a $2.5 billion settlement with the U.S. Justice Department over the two 737 Max crashes, including agreeing to pay $500 million to victims' beneficiaries, WSJ reports. Boeing also pledged $100 million to a fund for victims' families, built a memorial in Ethiopia, and reached a $237.5-million settlement with shareholders regarding mistakes the company made in rushing the botched 737 Max to market.
Update: After this article was published, Boeing contacted Jalopnik with the following statement:
We are deeply sorry to all who lost loved ones on Lion Air Flight 610 and Ethiopian Flight 302. We have acknowledged the terrible impact of these tragic accidents and made an upfront commitment to fully and fairly compensate every family who suffered a loss. Over the past several years, we have kept our commitment as we settled a significant majority of claims and we look forward to constructively resolving the remaining cases to ensure that the families are fully and fairly compensated.