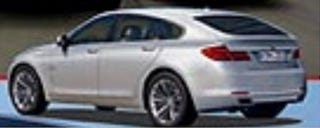 A German forum has posted a Bigfoot-esque photo of what they claim is the BMW PAS Concept. Could this be the Sasquatch we're all waiting for at next month's Geneva Motor Show?
A Toyota Venza-style crossover built onto the chassis of a BMW 5-series, the PAS concept previews the sadly inevitable BMW Progressive Activity Sedan.
As we can see from this picture, and as indicated in the dumb BMW PAS Concept Video, this is BMW's attempt to pack a sedan, an SUV and a Crossover into the same vehicle, thus removing even the notion of a unique selling point and completely destroying what little was left of this former enthusiast's passion for the brand.
We expect the PAS Concept to be a little more dynamic than the totally successful Mercedes Farce Minivan Mercedes R-Class, but the prize for BMW is a continued dilution of brand enjoyment.
[Motor-talk.de via CarSpyShots.net]