Good Morning! Welcome to The Morning Shift, your roundup of the auto news you crave, all in one place every weekday morning. Here are the important stories you need to know.
1st Gear: More Fines, More NHTSA Budget
Ryan Beene over at Automotive News has a good rundown on the proposed highway funding bill, one likely to be signed into law by President Obama. In addition to allocating $300 billion for transportation funding, the bill gives America's auto safety regulator more money and more teeth:
The cap on civil penalties that can be levied by U.S. auto safety regulators would be tripled to $105 million under a five-year highway bill expected to see a vote by the U.S. House and Senate this week.

The bill would also increase the National Highway Traffic Safety Administration's defect investigations budget to around $30 million per year from around $10 million currently, but only after implementing a series of reforms recommended by the Transportation Department's inspector general in its scathing report on NHTSA released this summer. NHTSA has promised to make the reforms by next June.
Sure, $105 million isn't a huge amount of money for automakers, but it's better than the relatively paltry fines we have now. And while NHTSA's track record is less than stellar, to put it politely, forcing the agency to make these reforms before getting more investigations funding seems like a solid compromise.
2nd Gear: VW Lawsuits March On, Likely To End In Settlement
As we reported in Tuesday's Morning Shift, Volkswagen is facing a lot of lawsuits over Dieselgate. They'll be consolidated as the courts decide on a venue. But as Bloomberg reports, since VW has already admitted fault here, it's unlikely the cases will go to trial but rather will end in a settlement instead:
By the end of the month, the judges in New Orleans will decide where the cases will be consolidated and which judge will preside. Then comes a series of preliminary and filings to decide lead counsel and other procedural issues.

The real negotiations will focus on the settlement amount. The plaintiffs are claiming various wrongs: deceptive trade practices, breach of warranty, breach of contract, false advertising, fraud and others. Nearly all the states with the largest number of affected vehicles allow them to claim more than just their loss, some as much as three times the amount.
G/O Media may get a commission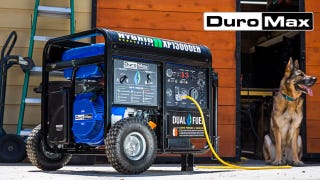 Black Friday Sale
DuroMax Generator Sale
3rd Gear: A Big Loan To VW
Speaking of VW, Reuters reports they're getting a $20 billion bridge loan from 13 banks to help cover the Dieselgate costs:
Eight banks which had initially offered tranches of 2.5 billion euros will supply 1.825 billion euros each, while five banks which offered 1.5 billion euros each will provide loans worth 1.08 billion euros, the people said.

Citi, Unicredit, Barclays, Bank of Tokyo-Mitsubishi, BNP Paribas, HSBC, Mizuho, Societe Generale have granted the larger tickets, with Goldman Sachs, Bank of America, Santander, BBVA, Credit Agricole supplying the rest, they added.
4th Gear: The Volvo S90 Aims To Bring In New Blood
Volvo's goal with the 2017 S90 sedan isn't longtime Volvo loyalists: it's new buyers. Here's Automotive News with a rundown:
The majority of the S90's sales — an estimated 80 percent — will be new customers largely because the S80 was not a big seller, Volvo head of sales and marketing Bjorn Annwall told Automotive News Europe on the sidelines of the event.

When asked where the sedan will sell most units, Annwall said, "Clearly we expect the U.S and China to be the biggest markets for the car."

Volvo has run clinics in both countries to get consumer feedback. Annwall said car buyers in both markets appreciated the S90's fit and finish while U.S. customers really liked that the car can nearly drive itself on the highway.
5th Gear: What Comes Next?
Auto sales are booming right now, expected to hit 18 million new cars by the end of this year, the highest numbers we've seen in a decade. But what comes up must eventually come down, as The Detroit News' Daniel Howes says in this column. Are automakers prepared for downturn, and will the post-bankruptcy Detroit car companies in particular be able to weather it?
Don't expect that to last, because it never does. Managing prosperity means more than getting what you can while you can, a mantra repeated during the recently concluded ratification drives for this season's contracts.

It means satisfying current demand, staying smart and flexible, avoiding the kind of epic mistakes like the ones dogging VW, and planning for the time when those conditions change. Because they will.

Detroit historically hasn't been good, at all, at this. The record year of 2000 obscured a broken business model and created a false sense of security shattered by the frantic labor concessions of 2007 and the slide to insolvency a year later.

If there really is a New Detroit Auto Industry, the next rough patch will be the best chance to prove it.
Reverse: Godspeed, Pacer
Neutral: Will Steeper Fines And More Power To NHTSA Work?
Besides the fines and the budget stuff, that highway bill includes several provisions to strengthen NHTSA's powers. Will automakers take it seriously and will it make a difference?
Photo credit AP
---
Contact the author at patrick@jalopnik.com.