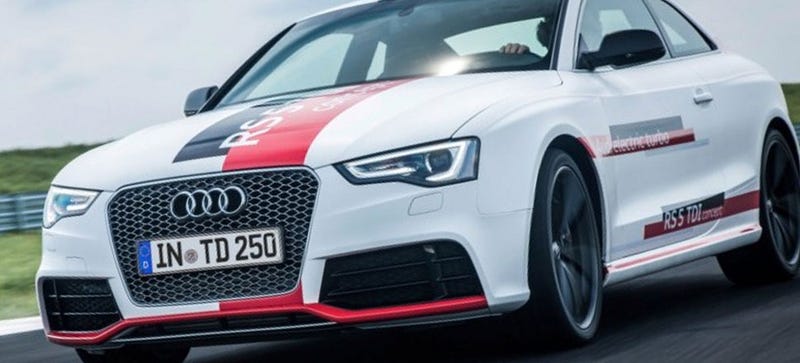 Turbos are great, right? You know what's even better than a turbo? TWO turbos. And better than that? Four. Wait, that's crazy. Three. Like the Audi RS5 TDI Concept has, and one of those is an electric turbocharger. With these three amigos, Audi is getting 385 HP and a crazy 553 lb-ft out of the diesel V6.
This concept is meant to celebrate the 25th anniversary of Audi's TDI diesel engines, the first of which was a 5-cylinder used in the Audi 100 back in 1989. That, in many ways, was the start of diesel's long slog away from the old stereotypes of slow, dirty, one-taillight-blackening oil burners.
The RS5 TDI concept takes all those spark-plugless ponies and channels them through an 8-speed auto to all the wheels, which should allow it to go from dormant to a mile-a-minute in about four seconds, all while getting about 47 MPG. Well, probably not 47 MPG when you're trying to hit a 4 sec 0-60, but still.
Two of the turbochargers are part of the normal equipment for Audi's twin-turbo 3 liter V6 TDI. The third one is the interesting one, in that it's an electric turbocharger, and as such is not dependent on exhaust gases to get spinning. This means it's perfect for covering the gap in the time it takes the regular turbos to spool up, all but eliminating any turbo lag.
It's also pretty likely that electric turbocharger requires a beefier alternator, but Audi didn't mention that just yet. Probably because that's sort of boring to most people.