After a nearly 18 year absence, the Lagonda has finally returned. Aston Martin revealed the new Lagonda Concept today at the Geneva Motor Show and it's...a crossover??
When we first heard of a revival of the storied luxury brand, Lagonda, we envisioned big, classy exotic sedans with ridiculous proportions and enough sex appeal to spare. The last thing we expected to see was an SUV, no matter how intensely styled it may be. Aston Martin states in their excuse ahem, press release, that the Lagonda Concept's intention is to enter the marketplace with a 'unique performance avant-garde luxury product.' Wait a minute. Didn't Porsche already do this? Something about a pepper of some sort? It might just be our imagination, but this is hardly a unique vehicle. For Aston Martin yes, but for the world - No.
G/O Media may get a commission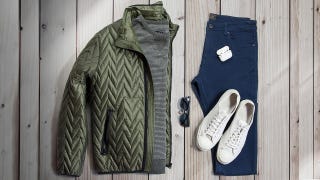 60% off
Jachs NY Fall Sale 60% Off
Getting past our initial disappointment will be difficult, but the overall form of the Lagonda Concept is quite beautiful, with the exception of the 'Hannibal Lectre' grille, as it shall be called from this point on. The four-wheel drive, four-seat Lagonda does have some redeeming qualities about it, most notably being the unconventional rear section that appears to be more Bentley than anything else. If you cover your hand over everything from the belt-line down, the Lagonda Concept has a hint of SAAB in it, but that's not necessarily a bad thing as they've basically created a design that SAAB should have tried with the 9-4X.
Unfortunately, as one brand slowly kills itself another will be born and according to Aston Martin Lagonda Chief Executive, Dr Ulrich Bez:
"The Lagonda is the luxury car of the future."
If this is true, then we welcome back the Lagonda nameplate, but please bring us some of those wildly proportioned exotic sedans that we mentioned earlier and don't just re-badge the Rapide while doing so. Thanks Aston!
Aston Martin Lagonda Press Release (Or How Aston Martin Ruined Our Dreams):
Lagonda: Revival of a Luxury Brand

Aston Martin is proud to announce the return of Lagonda, one of the oldest and most iconic names in luxury car manufacturing.

The revival of Lagonda fulfils a long-term vision and will bring performance luxury into new markets and territories around the world for Aston Martin Lagonda. Ultimately, Lagonda will be a strong presence in 100 global territories, vastly increasing the global brand reach of the company and extending to new customers.

Reflecting its remarkable history, the brand will return to Russia, enter emerging markets in the Middle East, South America, India and China, as well as responding to demand from the dynamic, innovation-focused consumers of Europe, North America and the Far East.

"The Lagonda is the luxury car of the future," says Aston Martin Lagonda Chief Executive, Dr Ulrich Bez, "a combination of total usability, a new form and innovative new technology and materials."

Lagonda is committed to innovative new propulsion technologies, new materials and elegant forms, creating a functional luxury for the near future. Critically, the brand will allow the exploration of alternative powertrain solutions including flexfuel, low emission diesel and hybrid systems. Lagonda will epitomise the intersection of craft, design and technology with Aston Martin's established high performance expertise.

The intention is for Lagonda to enter the market place with a unique performance avant-garde luxury product, a vehicle that combines exceptional ability with unsurpassed elegance, inside and out. The LAGONDA CONCEPT is a powerful four-wheel drive, four-seater car that will satisfy the most discerning and demanding owner.

"An Aston Martin is an authentic, pure sports car," says Dr Ulrich Bez, "but Lagonda is something else, a new brand that will reach into new markets. Lagonda will create a new kind of customer relationship, instilling the spirit of travel, adventure and style into a single, formidable package.
Photo Credit: Autoblog.it
[via Aston Martin]