The California Highway Patrol is scouring the streets for this dickbag who was caught ramming their Infinti G37 into a BMW, sending it careening under a semi-truck. Nobody was hurt, but the sooner this dangerous asshole is removed from our roads the better.
KTLA reports that the incident took place on Wednesday at around 3 p.m. in the Colton, California area which is about 60 miles inland of Los Angeles. A motorist identified as Jose Rios apparently had both front and rear dashcams running as the accident unfolded, which he shared with the BMW driver Madis Tolentino's family who then uploaded the videos to Facebook:
The offending aggressor looks like an '08-'13 Infinti G37, but it's tough to pluck out any distinctive details or the vehicle's license plate number from this clip. If you see or know anything that could help identify this specific car, the CHP tips line is always open.
Some speculation is also circulating that the pale green third-generation Nissan Altima (2002-2006) that's also driving jankily in the video was street racing the Infiniti. Tough to tell if that's the case or if it's just being piloted poorly.
G/O Media may get a commission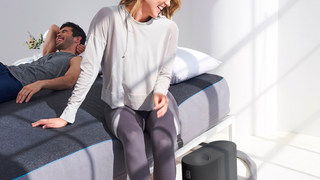 Eight Sleep Pod Cover
Regardless, it's a bad scene that gets worse as the big rig drags the bumped BMW to a halt and effectively lays a smoke screen across the freeway, which had the potential to cause all kinds of trouble.
It really is miraculously that everybody walked away from this. Be careful out there, and look out for each other. And if you know anything that might help bring the bad drivers here to justice, please reach out to the police.