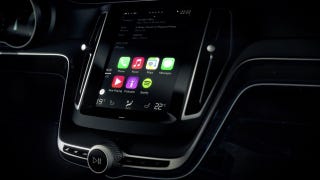 Accessory makers pay big bucks for those little "Works With iPhone" icons on the boxes of everything from cables to speaker docks, and a new trademark from Apple indicates that CarPlay will be the latest system to get in on the action.
The crew at Patently Apple dug up a European trademark for "Works With Apple CarPlay", pointing the way towards a line of third-party accessories that will be tested and approved by Apple to work with its car-specific system.
This will be a big part of Apple's push to get into as many cars as possible – both new and used – with some analysts projecting up to 24 million cars equipped with CarPlay by the end of the decade.
Automakers, spanning the spectrum from Hyundai to Mercedes-Benz, are readying or offering CarPlay compatible systems, and the aftermarket is beginning to ramp up as well, led by Pioneer.
And the timing of the trademark couldn't come at a better time – we'll see scads of CarPlay-equipped systems next month at CES.