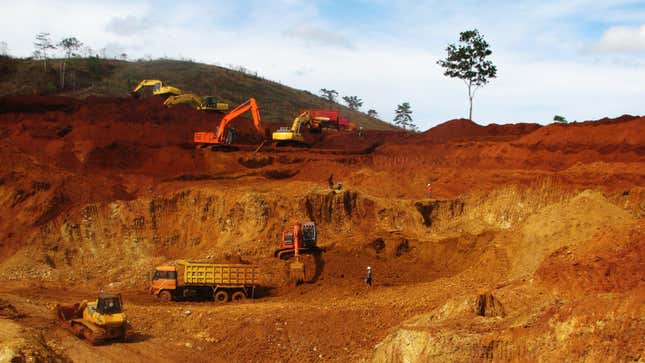 We've written before that EVs, with all of their nickel, lithium, cobalt and other rare metals, are not all that green when you take mining into account. You can add destruction of one of the last isolated tribes in the world to the not-so-green list of deforestation, ocean pollution, and worker abuse in part caused by the EV craze.
In case you missed it:
Indonesia is going through a nickel mining boom right now, and the expansion of the Weda Bay Nickel mine. Weda Bay Nickel is a company that partners closely with several companies contracted by Tesla as well as other high-powered firms to provide metals for battery production. The car company has invested $5 billion into mining in the region so far. The expansion of these mines means the loss of tens of thousands of hectares of jungle, which happen to be home and hunting grounds of the O Hongana Manyawa—an isolated hunter-gather tribe of about 3,000 individuals living in across Halmahera, the largest island in eastern Indonesia's Northern Maluku province. Vice spoke to a member of the tribe named Kumbang:
Their staple foods of carb-rich sago palm fruits have been razed, the rivers providing their drinking water poisoned by mining run-off, the rattan fibers for clothing are harder to find, and the resin-producing trees, whose sap is used for natural torches, are obliterated. Mining encampments filled with thousands of men and security forces now occupy the hunting grounds where O Hongana Manyawa chased deer and wild pigs for food.

"The forest is everything, it is their heart and life," said Kumbang. The young man's name has been changed to protect his identity due to what NGOs and activists say are credible threats to his safety for speaking out about the issue. "My parents and siblings are in the forest and without support they will die."

Environmental groups and indigenous rights activists have sounded the alarm in recent days. They allege that mining company Weda Bay Nickel and other similar projects are destroying the traditional lands of the O Hongana Manyawa, also known as the Forest Tobelo, and are at risk of devastating their forest-dependent way of life.

While many members of the tribe have had contact with the outside world, either via government programs to integrate tribe members into Indonesian society, or via Christian missionaries, about 300 to 500 members live in complete isolation from the outside world. The remaining 2,500 or so prefer to stay in the jungle and limit contact with outsiders.
Of course, the O Hongana Manyawa aren't the only people affected by deforestation, though Weda Bay Nickel says it's doing everything right, while Vice found several breaches of international law. All of this destruction led Novenia Ambeua, Chair of the activist group North Maluku Region Indigenous Peoples Alliance of the Archipelago and member of a tribe closely related to the O Hongana Manyawa to ask this question:
"These are the forests which we guard for the future generation and now they are being destroyed for electric cars, where is the heart of people in the west?" Ambeua told VICE World News.
All of the companies mentioned in the article working with Weda Bay Nickel declined to comment on Vice's story. You can read the whole thoroughly depressing story here.