Back in 2002, the National Auto Sport Association's 12-hour race at Thunderhill was so popular that they wanted to extend 24 hours for 2003. Then founder Jerry Kunzman asked, "Why not 25?" and the rest is history. A bucket-list item for racers everywhere was born: the 25 Hours of Thunderhill.
The 25 Hours of Thunderhill is the crown jewel of American club racing, and it happens this weekend. It attracts a little bit of everyone, from racers looking to run something unique to professional drivers and OEMs.
If you want to tune into the madness, Endurance Radio is offering a livestream of it here. Qualifying starts tonight at 5:15 p.m. PST and the race itself starts at 11:00 a.m. PST tomorrow.
G/O Media may get a commission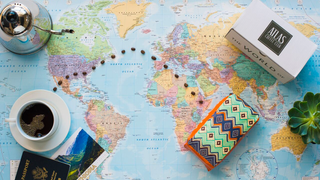 First Bag Free
Atlas Coffee Club - Free Coffee
Explore global coffee
With each bag, Atlas includes details on the coffee's tasting notes and a postcard about the region and its coffee history. And when you subscribe, you have options to tailor frequency, grind size, and roast preference of your beans, so you'll always be brewing the perfect cup.
RennSport will be live-blogging the full 25 hours of the race as well, and that post should appear here tomorrow. (UPDATE: That post is live now.)
Here are some of the highlights spotted on the entry list.
Coldcock Whiskey Silverado
This crazy racetruck that tends to show up at NASA events is back this year, competing in ES. Despite sticking out in the expected sea of BMWs and Miatas at Thunderhill, it has several NASA Western Endurance Championships to its name as well as an STR1 class National Championship.
Team Quick Racing Products Superlite SLC
Ryan Eversley (pictured) and Mike Skeen will be piloting this fantastically quick purpose-built racer all weekend, which runs in ES with the racetruck. Eversley, as usual, will be tweeting hilarious updates all weekend long. He's even channeling his inner Tom Kristensen to remind us all that "bae" is Danish for "poop." (Protip: don't call the ladies poop. We don't like that.)
This car is a perennial fan favorite, and many believe that the team finally has a chance for the overall win now that the Audi RS LMSes of Rotek Racing and GMG Racing are sitting out this year.
Mazdaspeed Dealers A/B + Factory Guys Mazda6
Do you miss the beautiful Mazda6 diesel racecar that raced in Grand Am last year? Mazdaspeed is fielding three teams, all running Mazda6 diesels. Huzzah!
It's not the same car that ran in Grand Am, though. These are the three identically prepared 2014 Mazda6s based off of the road cars that ran last year, and they're back to settle this dealers versus factory guys grudge match again. Mazda will be streaming all 25 hours of the race from insides these cars live on MazdaLive.com as well.
Racer, pitcher, hyperblurple car aficionado and Mazda dealership owner C.J. Wilson will be driving on the Dealers A team.
Twini Endurance Racing Team Mini Cooper S
"Twini" obviously means "two-engined." If there's a car this year that best represents the crazy homebrew engineering that Thunderhill is famous for, it's this beast.
Davidson Racing 1/2/3
Davidson Racing brings a three-car assault on Thunderhill this year, running a DR Eagle prototype on team 1, a Norma M20F BMW on team 2, and a Norma M20F Honda on team 3. With an all-star driver lineup, they're the other likely contender for an overall win.
Per the team, some of the drivers for the 1 and 2 cars will be:
The NASA 25 Hours of Thunderhill is right around the corner. Here is our Driver Lineup for the 2014 Year.

DR Eagle:

Bob Davidson

Burt Frisselle

Anthony Lazzaro

Dion Vonmoltke

Brandon Kraus

Chris Lock

BMW Norma:

Bob Davidson

Brian Frisselle

Randy Pobst

Alex Lloyd

Kyle Marcelli

Dominic Cicero
There's a whole lot of recognizable names on that list from professional sportscar racing, including Alex Lloyd from our "How to Drive Fast" series.
Motorsport Services Seat Leon Supercopa
The award for the farthest team here goes to this team from Hamilton, New Zealand. They've brought a car we don't get in America to one of America's most famous club races. I'm rooting for them by default. The fact that it's a crazy 400-hpp Leon Supercopa doesn't hurt, either.
The team has previously run one of these cars in the 12 Hours of Bathurst, so they're bringing loads of endurance racing experience as well as an unfamiliar car to ogle.
BF Goodrich Road Shagger Racing BMW M3
Speaking of famous names, NASCAR driver Kurt Busch is here in a BMW E36 M3. Whoever says NASCAR drivers can only turn left, please report immediately to the pot of crow for your daily ration.
(H/T Axel-Ripper)
---
Your yearly reminder that you need to hurry up and finally get a racing license is here. Every story that comes back from the 25 Hours of Thunderhill makes it sound like a blast, so it's definitely one of those races that I would like to do at some point.
The full entry list as well as a schedule, past winners, and class information can be found on NASA's website here.
Photo credits: Mike Sweeney (Eversley in the car), Ryan Eversley (everything else)