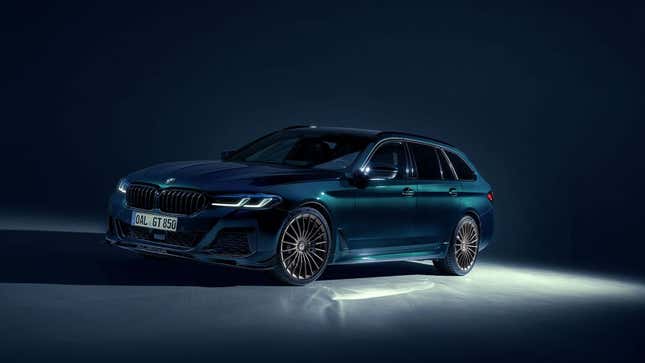 For some reason I'll never get my head around, most people would rather have a big, boxy SUV over a cool, sleek station wagon. It's for that reason that car makers around the world stopped plowing their sporty ideas into cool wagons to focus on rugged utility vehicles instead. But now, German tuning company Alpina is out to show just how slick the station wagon can really be.

The successful medium-sized company made a name for itself building high-performance BMWs. And, after being acquired by the German automaker last year, the company is back with a hot new BMW, based on the 5 Series.
Called the Alpina B5 GT, the new model is quite a machine and claims the title as Alpina's most powerful car of all time. Available as a sedan or the glorious wagon you see above, Alpina will build just 250 of the new cars.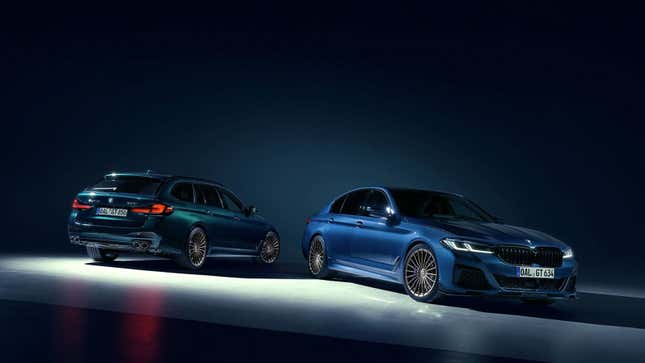 Under the hood, both the sedan and the Touring are pretty much the same. Each comes with the same 4.4-litre twin-turbo V8 that you find in the M5. But, in the Alpina, it's tuned to produce 634 hp, which makes this the most powerful engine Alpina has ever fitted to one of its cars.
That stat also makes this the most powerful 5 Series you can buy new today. It's 34 hp more than you'll find in the M5 here in America and 9 hp more than you'll get from the M5 Competition, if you're lucky enough to live somewhere that's available.
That added power is thanks to an optimized air intake duct, reworked exhaust parts, changes to the engine's software and different turbo boost pressures, according to Auto Express. The B5 GT also comes with an eight-speed automatic gearbox and tailpipes coated in titanium nitride. Nice.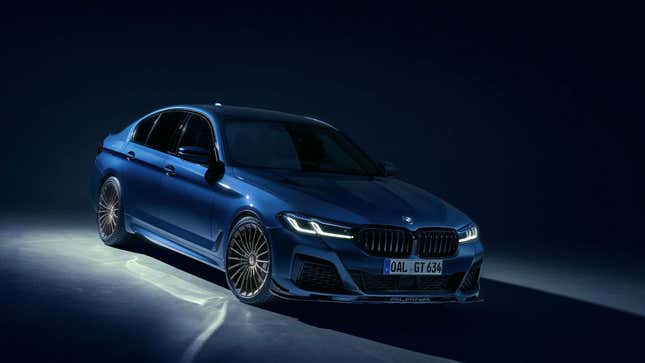 But what does an additional few horses under the hood mean? Well, it means that the Touring model will top out at 200 mph and the sedan will manage 205 mph. The sedan and Touring will also manage 0-62 mph in just 3.4 and 3.6 seconds respectively.
As well as tweaks to the engine, Alpina also upgraded the stopping power on the B5. That means four-piston Brembo calipers paired with 395mm discs at the front and floating brake calipers with 398mm rotors at the rear.
Joining the brakes at each corner of the car is a set of Alpina's wonderful wheels. On the B5 GT, these are a set of excellent forged 20-inch rims. Alpina has also slightly dropped the ride height at the rear, it says in an attempt to improve the car's center of gravity.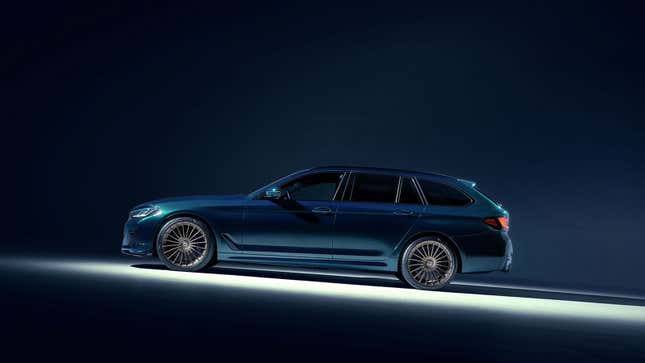 All this combines to make the hottest of hot station wagons. Now, if only they were making more than a handful of these to help convert the masses to come round to the world of wagon supremacy.