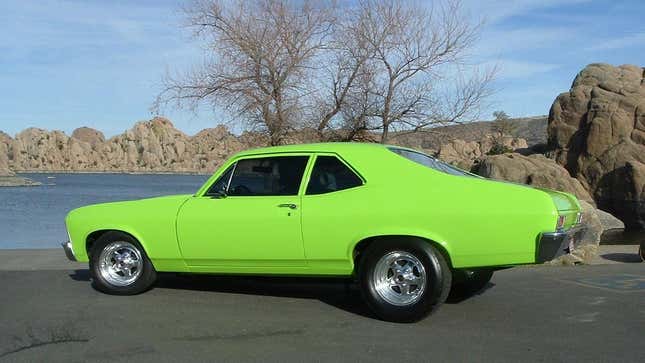 Everyone knows when you do a crime you've got to record it and uploaded it publicly to social media in order for everyone to know exactly how cool you are. It's this logic that led Connecticut State Troopers straight to the driver who hit 133 mph in his 1970 Chevrolet Nova.

In case you missed it:
It did not take long to locate Joseph Tavella, 36 (36? really dude?) and charge him with "...reckless driving, driving while using a handheld device, and second-degree reckless endangerment," according to WFSB News.
Tavella allegedly posted the video to his publicly available Instagram and Facebook accounts, though the accounts were not connected to his name and identity. It did have the caption "69 nova pro touring Is2 procharged," according to Fox 61.
While that certainly does sound like a fun build, there's a time and a place for everything. The place is certainly not Route 7 in Norwalk, Connecticut.
Police looked for clues in the video to identify the driver, such as tattoos and vehicle registration and quickly figured out it was Tavella allegedly bombing down Route 7. From WFSB:
The timestamp on the video was March 27, and the privacy settings on the post was set to public.

Investigators said they noticed tattoos on the driver's right arm. The video had been shot with the driver's left hand.

With information gathered over social media, state police said they were able to get a registration plate from the Department of Motor Vehicles database, which pointed to its owner, Tavella.

Recording your speed run by precariously balancing your phone in your hand is beyond dangerous and dumb. Posting it on social media for all the see, even dumber. Including your very visible tattoos and driving a rather rare car while doing your crime? We have the dumb, dangerous driver trifecta here folks. And yes, while I am at least a little less mad at someone doing 133 mph in a Nova it sounds like he's facing exactly what he might deserve for putting the public at risk with his alleged stunt: lots of fines and possible jail time.
Remember folks, fast cars are fun, but save the speed runs for the track. Invest in a windshield-mounted camera while you're at it.