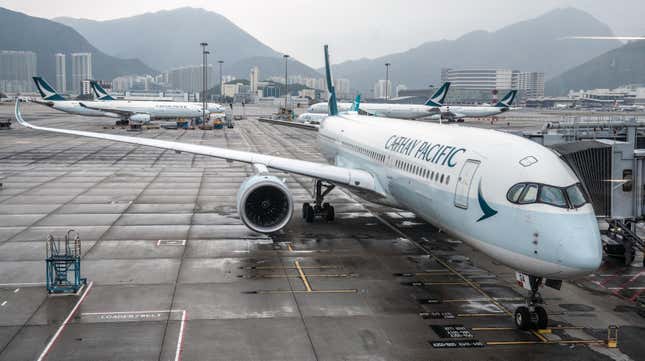 Airlines can be a person's first contact point with other parts of the world especially if the carrier is state-owned or closely connected to a certain area of the world. While a flight can offer a small glimpse into a country's culture, things can go south fast. Last Sunday, three flight attendants from Hong Kong-based Cathay Pacific Airways might have severely worsened relations between the city and mainland China.
Audio emerged from Cathay Pacific Flight CX987 of a flight attendant mocking the English of a Mandarian-speaking passenger. Reuters reported the passenger had asked for a carpet when they meant a blanket during the service between Chengdu and Hong Kong. While laughing with her colleagues, the attendant reportedly said, "If you cannot say blanket in English, you cannot have it. Carpet is on the floor. Feel free if you want to lie on it."

The clip has been widely circulated on social media in China with many calling for a boycott of Cathay Pacific. The incident was prominent enough to even call for an official from the Chief Executive of Hong Kong, the leader of the city's government. The South China Morning Post reported that Chief Executive John Lee said, "These disrespectful words and deeds have hurt the feelings of compatriots in Hong Kong and the mainland, and also undermined the city's existing culture and values of respect, courtesy and inclusiveness."

Cathay Pacific's response has been swift. The airline fired three attendants involved in the incident after conducting an internal review and the company CEO Ronald Lam apologized by saying, "I would like to reiterate that Cathay Pacific takes a 'zero tolerance' approach to serious violations of company rules and ethics by individual employees and will not tolerate them."

The Cathay Pacific Airways Flight Attendants' Union has stated that the real problem is the poor working conditions at the airlines with a lack of manpower and low pay. The union also mentioned that cabin crew are purposely being provoked and filmed by passengers from mainland China. The disdain against Cathy Pacific cabin crew stems from reports that company employees took part in the 2019 anti-government protests in Hong Kong.