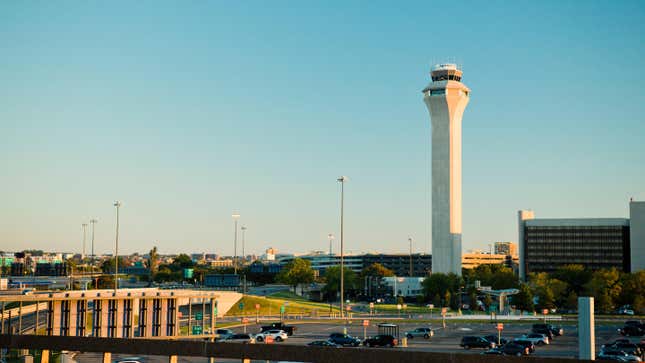 The Federal Aviation Administration is looking to avoid a second consecutive summer of delays in the New York City area. The FAA has stated it is making efforts to mitigate a significant shortage of air traffic controllers. The federal civil aviation agency has asked airlines to reduce the number of flights in and out of John F. Kennedy International Airport, Newark Liberty International Airport, and New York LaGuardia Airport during the summer months, all to avoid a meltdown of delays and cancellations.
This NYC Garage Takes Vanlife To The Next Level | Jalopnik Visits
In case you missed it:
The FAA's primary concern is the New York Terminal Radar Approach Control (TRACON), the facility managing the airspace around the three major airports serving America's largest city. In a notice published last month, the agency stated that TRACON is only operating at 54 percent of its ideal staffing target. For comparison, the current national average for air traffic control staffing is 81 percent. The FAA is planning to shift responsibility for Newark Liberty to a Philadelphia facility to lessen the load on TRACON.
The Washington Post reports the FAA has asked airlines to cut flights and use high-capacity aircraft to make air traffic more manageable. The agency predicts that there could be a 45-percent increase in delays despite only seven percent more traffic in the skies. As a concession, the FAA is offering carriers a conditional waiver of the minimum usage requirement for airport slots. The waiver would allow airlines to reduce their number of flights without the risk of losing slots at major airports. Usually, the highly-desired New York flight slots operate on a use-it-or-lose-it basis.

JetBlue has already announced that it will reduce its flights. JetBlue CEO Robin Hayes told CNBC, "We don't want to pull down flights. I'm sure no airline wants to pull down flights. But if we don't cut them the system is not going to be workable this summer." The New York-based airline operates 60 percent of its flight schedule out of the city's airports. According to the Washington Post, Southwest Airlines has no intention to cut its flights at LaGuardia. Airlines have until April 30th to accept the FAA's waiver offer.