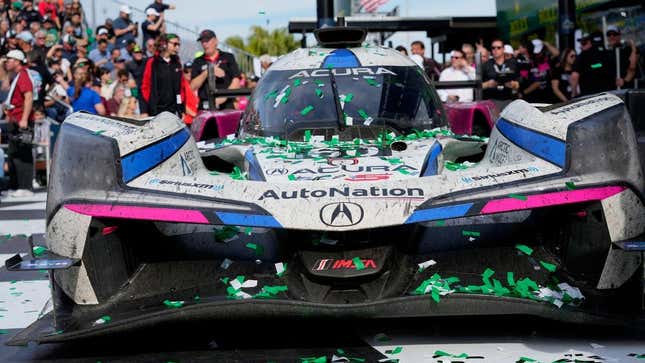 "We think we've done enough testing ... but we haven't run a 24-hour race yet." Acura's overall first- and second-place finish at the Rolex 24 at Daytona last weekend came with very little drama. But ahead of the race, Mitch Davis, general manager of Wayne Taylor Racing, talked about the many hurdles he and his team faced in the lead up to the infamous 24-hour endurance race.

The ARX-06 prototype was one of several entries in the new IMSA GTP class, which now requires the use of a common hybrid drive system across all competitors. Acura — along with BMW, Cadillac and Porsche — were allowed to engineer their own internal combustion engines for the prototype racers, but the battery, electric drive motor, and gearbox could not be changed.
"We have a Bosch antilock braking system, we have an Acura engine that HPD built, we have Bosch who built the electric motor, we have Williams F1 who built all the controls for the electric motor and the battery," Davis said. "All of that has to communicate, and if there's one parameter set off or one sensor that sees something it doesn't like, it shuts the whole car down.
"We have some bypass switches in there to bypass the sensors," Davis added, "but first you've got to look at the telemetry screen with 130 sensors on it and figure out which one threw the code [and] is it safe to start or is it a catastrophic failure."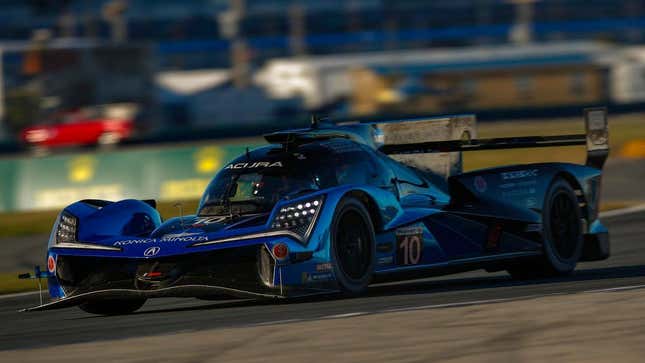 The ARX-06's powertrain — called AR24e — combined this hybrid system with a 2.4-liter twin-turbocharged V6 engine designed and engineered by Honda Performance Development (HPD) in Marysville, Ohio. But if something happened with the hybrid system during the race, it would cause the whole car to fail.

"It doesn't have a starter," Davis said. "If the hybrid system goes down... you can launch it with electric and start the engine, but [the internal generator] charges your battery. This thing draws a huge amount of power just sitting. When we tow it around the garage we have to have jumper batteries plugged in. It goes dead quickly.
"This car, this motor, the hybridization of what we're doing here is new stuff for North America," Michael Shank, team owner of Meyer Shank Racing, said ahead of the race. Shank's No. 60 car took pole position during qualifying the weekend before the Rolex 24, with driver Tom Blomqvist at the wheel.
"Out of the box, the car's been a rocket," Shank said. "We're really, really proud of it."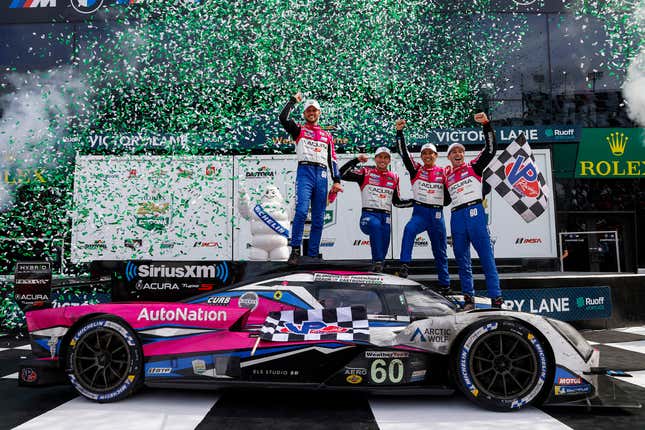 Development of the ARX-06 was a ground-up effort, taking place over the last several years amid struggles brought on by the COVID-19 pandemic.

"We approached it like a project in our studio," said Dave Marek, Acura's executive creative director. "We're doing an MDX, we're doing the new ZDX, we're doing an ARX."
Unlike Acura's previous racer, the ARX-05, the Acura design team was given a lot more freedom with this new car. "We had worked on the 05," Marek said, "we had done the front end. They wouldn't let us do anything else. We tried and they kept saying no."
Bill Yex, Acura's special projects lead, recalled early ARX-06 development. "We did a lot of weird stuff at the beginning," he said. "It didn't work at all. We did a bunch of different variants of the car."
But all the design and engineering development obviously paid off, with Meyer Shank Racing and Wayne Taylor Racing claiming the overall first- and second-place spots, respectively, at the 2023 Rolex 24.
"What we really have here is the dawn of kind of a new era of motorsports," Shank said. "And that's not bullshit."