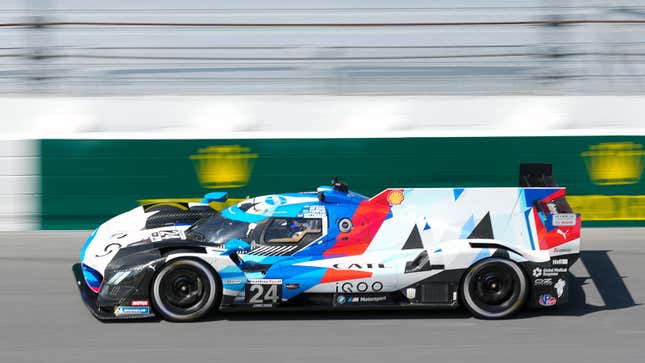 The 2023 IMSA WeatherTech Championship kicks off next week with the Rolex 24 at Daytona and, with it, a new generation of GTP hybrid prototypes. Between Cadillac, Porsche, Acura and BMW, there's plenty of change to be enthusiastic about within the top class, but one difference that may surprise you on race day will be the sound coming from pit lane.

Whitney Cummings' First Car Was an Acura CL With a Criminal Past
Sure, the lower-class single-seaters and GT cars still have their purely internal-combustion powertrains, but when a GTP machine takes off from its stall, it won't be contributing much to the cacophony. Instant torque from the electric motors means all you'll hear is an intensifying whine until the gas engine kicks in partway down the pit straight. Or not.
If you want a sneak peek of what we're in for, Racer's Marshall Pruett just posted a short video where you can watch the Cadillac, Acura and BMW in launch form. As Pruett explains, teams are free to use whatever mix of propulsion they prefer, whether that's taking off on battery power and quickly switching to the ICE once the speed limit is reached, or trundling down the whole thing on electricity alone.
An initial three-second time limit had originally been instituted for maximum electric power, but IMSA decided to uncap it out of concern for drivers getting held up on their way back to the track. On the flip side, the automatic ignition system, tasked with firing up the engine as soon as a car came down from its jacks, has been banned for 2023.
Every GTP chassis gets the same energy recovery system utilizing components from Bosch, Xtrac and Williams Advanced Engineering, but they're tied to different engines independently developed by each constructor. The Acura touts a V6, while the rest employ V8s, and only Cadillac's is naturally aspirated.
Mandating a spec hybrid unit helps to keep costs down while still offering manufacturers the opportunity to flex their muscle and differentiate their machines on the ICE side. It's certainly a new realm for IMSA, but one that holds a lot of promise, with more automaker involvement at the top level than we've seen in ages.
Initial practice for Daytona was held Friday, with Racer reporting the top three times posted by Acura, then Porsche, then Acura again. Out of the nine cars in the class, six were clocked within a second of the lead. Next weekend can't come soon enough.