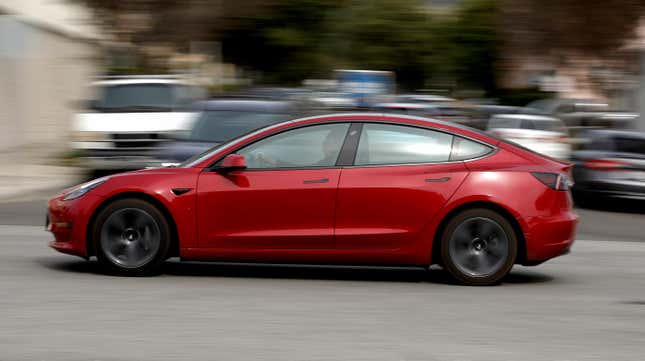 Autonomous and self-driving technologies have been at the forefront of discussions about the automotive industry for all the wrong reasons. From serious crashes involving vehicles equipped with semi-autonomous features to Tesla's 363,000-car Full Self-Driving Beta recall, the public at large is not comfortable with this fledging technology being thrust onto roads across the United States. A recent survey conducted by the American Automobile Association (AAA) makes it clear that more and more Americans are afraid of autonomous vehicles.
2024 Nissan Z NISMO | Jalopnik Reviews
In case you missed it:
AAA's annual automated vehicle survey asked around 1,000 American adults a number of questions about their opinions about autonomous driving. According to Automotive News, 68 percent of respondents answered that they were afraid to ride in automated vehicles. In 2022, 55 percent stated that they were fearful. The survey's results aren't a vote of confidence for the automakers spending billions of dollars developing self-driving systems to bring to market, and it signals that automakers will have an uphill battle convincing people of the viability of those technologies.
Greg Brannon, director of automotive research for AAA, said to Automotive News, "We were not expecting such a dramatic decline in trust from previous years." Brannon wasn't entirely surprised, though, considering the recent spat of high-profile crashes. Examples like the eight-car pile-up on the Bay Bridge late last year caused by Tesla Model S with full self-driving engaged or the Cruise server crash that brought 60 vehicles in San Francisco to a halt haven't exactly stoked the fires of confidence.
The examples are nearly countless at this point. Also, regulators being forced to rein in heedless decisions will only encourage the average American to be even more distrustful of automakers. The National Highway Traffic Safety Administration believes that nearly every Tesla equipped with Full Self-Driving software could drive straight through an intersection without stopping.
If manufacturers want true autonomous vehicles to be successful and widely-adopted products, they must develop reliable near-faultless services and prove self-driving's viability to the public. At the moment, automakers have fulfilled neither requirement.