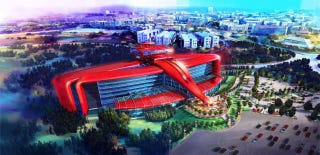 Personally, an amusement park called Ferrari World sounds extremely corny. But it's probably a good time whether you're a kid or a kid at heart. And what do you bring home with you after a trip to Ferrari World? A souvenir cup, perhaps.
I'm certain some of you have come back from a Disney theme park with various plastic things shaped like, or imprinted with, a certain mouse on them. Obviously, a cup from Ferrari World will be so much more awesome. Or obnoxious, one of the two.
Get your very own Collector Cup with each Fiorano Cherry Slushee!!!
That'll extinguish my thirst
JUST $40 EACH!

#feraripricing
That can't be worse than at Porsche Land.
Photo: Ferrari