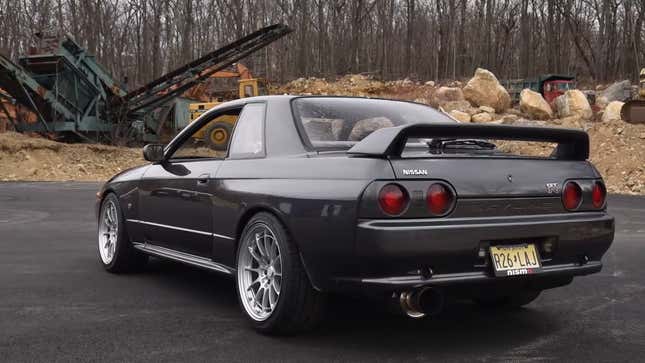 I feel like most people think of heavily modified, quarter-mile slaying drift- and drag-cars when they think of a Nissan Skyline GT-R. Maybe a car that spends more of its time going sideways than in a straight line, no thanks to the Fast and Furious franchise. But here's your reminder that they can be pretty tame.
"Urbane" is the word that is used to describe an R32 Skyline GT-R in this new Regular Car Reviews video. It means to be polite and polished in manner; refined. You'd think that with the mighty RB26DETT motor beneath the hood, power delivery would peel your eyelids back, with massive spikes because of the turbos—but it doesn't. It's wonderfully linear. It apparently feels like a large-displacement naturally aspirated motor.
Plus, this R32 doesn't have the mega-aggro Nismo front bumper, which is also something most people expect to see. Without that bumper, the whole car really does tone down a whole lot. If you didn't know what to look for, it's very likely that you'd look right over the R32 Skyline in traffic and not even think about it twice.
Sure, it's easy to get caught up in the excitement to overnight parts from Japan when you get your hands on a Skyline, but this is a good reminder that the stock R32, at least, is a very low-key sports car. There's a power in that, and I don't mean horsepower. Showing some restraint, especially when faced with a car that people typically love to mod, is unique.
I know it might be hard to find, but if you can manage to locate a well-kept, stock R32, then you're in for a comfortable treat. Save the modding for another day, or not at all.