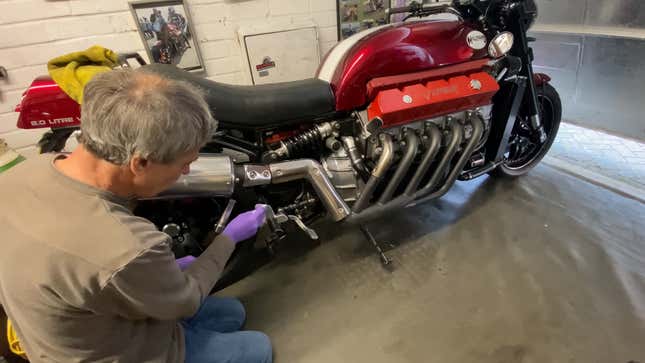 Twenty years ago, Dodge gave us the Tomahawk concept — a four-wheeled motorcycle built around the Viper's V10, all shining and silver and technically kind of rideable. But the Tomahawk, for all its early-aughts glory, was less of a functional bike and more of a demonstration for the V10's power.

For Allen Millyard, that wasn't enough. He built a functional bike around the Viper's engine, and has now proven that his design is something the Tomahawk could never be: Practical. See, Millyard's bike isn't just big and loud, it's also capable of carrying passengers — at over 180 mph.
Millyard set the record with passenger Henry Cole in May, at the UK & ITA International Speed Week at Elvington Airfield. That runway distance was critical in clinching the record, as it took Millyard and Cole a full 1.25 miles to reach top speed. The pair talked to MCN after the run, and described some of the difficulties of securing the record:
"I'm on a homemade bike that weighs 600kg with no fairing," Millyard told MCN, having ridden the 13-year-old machine on the day.


"I've got that to manage and then I've got someone on the back. It's like having a topbox on the back of your bike, full of cement," he joked. I was very cautious and careful, and progressively went faster and faster across the day."
A 1,323-pound bike likely isn't anyone's idea of fast, but numbers can be deceiving. With enough room to stretch its legs, that Viper motor has the torque to get a whole car up to speed — of course it can do the same for a smaller, lighter bike. Maybe Millyard will take Elizabeth on the next one, and see if they can beat the new record.
h/t The Drive