A Jalopnik reader caught this Ferrari 599 crashed off the road near Jacksonville, Florida. Apparently 612 horsepower and rear-wheel-drive are a bit of a handful in the rain. Who knew?
Our tipster described the event in his own words:
2-15-12 on I-295 East Loop, heading North over the St. Johns River (Dames Point Bridge) 3 lanes each way of high speed fun. Apparently wet conditions did not help this Ferrari as it was heading down the bridge. The driver's side hit the left concrete guard rail trashing the whole left side of the car leaving the hood 25 feet away.

The car must have went across three lanes of traffic to rest facing the wrong direction. The accident held up traffic really bad, don't see this kind of accident everyday in Northeast Florida. Parts of the hood, front nose and the left entire headlight housing were left in the median.
The Ferrari 599 has a reputation for being tail-happy even in the dry, so this crash isn't exactly a surprise.
G/O Media may get a commission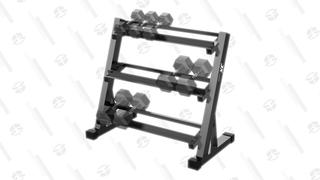 20% Off
JX Fitness Dumbbell Rack
Gains but tidy
Has a three-tier design to help store more weights more conveniently, can safely support up to 1000lbs of weight, which should be enough for most people, has a triangle base for stability, and also features anti-scratch feet which is great if you've built your own studio or workout in your garage.
UPDATE: The owner posted over at FerrariChat and explained what happend:
8 am yesterday morning got side swiped by 18 wheeler changing into my lane, hit me in drivers front quarter, spun me out, hit median at 70 mph spun down high way for 1/4 mile and literally walked away.
Hat Tip to: William!