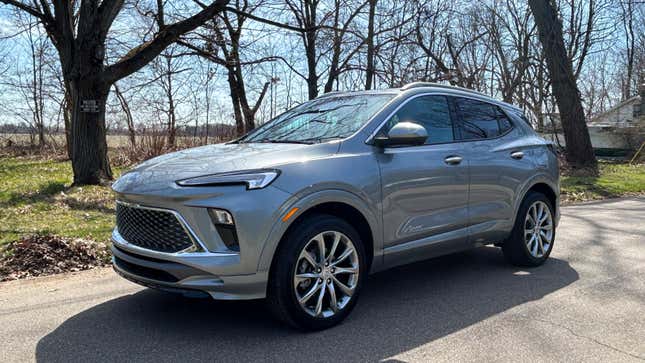 I know, I know. You saw 2024 Buick Encore GX and about lost your marbles from all the excitement. But before we get too amped up about Buick's newly face-lifted crossover, let's dial the energy back a bit so we can talk about it in a more reasonable tone.

My First Car: Ed Burns's Beater Buick
In case you missed it:
First, Buick is going through a renaissance of sorts, and it absolutely makes sense as it, like every other automaker on planet Earth, quickly pivots to electrification. If anything, now is the perfect time for brands to change things up and ready themselves for this new electrified era. Buick provided a hint of things to come when it patented a new version of the tri-shield crest that hadn't been updated since the 1990s. This streamlined crest came with the promise of Buick's EV line, the Electra, which, major props to them for utilizing a nameplate they already had in the archives.
We've already caught a glimpse of what Buick plans to offer for its electrified future. In the meantime, though, Buick has been giving its ICEs some much needed love and updating. That also included the phasing out of the smallest Buick crossover, the Encore (as well as its Chevrolet sibling, the Trax), and giving the compact, smallest Buick crossover crown to the Encore GX.
The Encore GX is built on the same platform as Chevrolet's Trailblazer, which is a good thing for a couple of reasons. The Trailblazer (for the Bowtie brand) was introduced as a better, slightly larger version of the Trax, and yet it was also, somehow, slightly cheaper. You were also treated to a crossover that felt much more like a tiny SUV (remember the Tracker?), complete with comparable mpg to its former sedans, and AWD. Obviously both brands kept to their unique appliqués for the interior and exterior details, but essentially, we end up with a more capable, roomy, substitute for a sedan, with comparable mpg and AWD.
Buick was kind enough to lend me an Encore GX Avenir to drive around Michigan for the week, so I thought I'd ask you fine folks, our readers, to tell us what you'd like to know about the crossover. Leave no stone unturned (but also realize I can't just run it up to, like, Sleeping Bear Dunes or the mostly-easy-to-find two-track trails around me). I'll try and answer what I can in my upcoming review.