Since it was first introduced in 1970 and revived for its current iteration in 2008, the Dodge Challenger has epitomized American muscle car culture's love of power, speed and size. But for all its adrenaline-pumping positives, the Challenger as we've come to know it is on its way out the door, set to be replaced by a still-powerful but all-electric spiritual successor. Thankfully, I got to say goodbye in the best way possible: By spending a week with the Dodge Challenger Shakedown, the first of seven Last Call models designed to send this performance icon out with a flourish.

Full disclosure: Stellantis let me cruise around in this sweet, beautiful Last Call Challenger for a whole entire week, which I did almost exclusively in sundresses. All opinions are my own.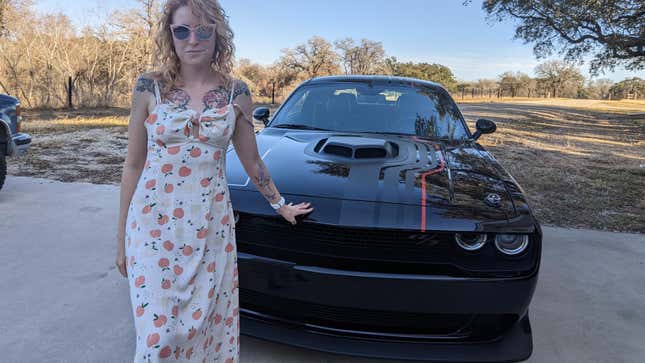 What Is the Dodge Challenger Shakedown R/T Scat Pack Widebody Last Call Edition?
To pay homage to the combustion-engined muscle car, Dodge announced seven "Last Call" special-edition Chargers and Challengers, all of which would take inspiration from the models' long performance histories. These cars would be produced in extremely limited quantities; if you wanted them, you'd have to act quickly. These are the last gasps of ICE muscle before Dodge ushers in an electrified era, previewed by the Dodge Charger Daytona SRT concept.
The Shakedown is based on a show car Dodge brought to SEMA back in 2016. Dodge will build 500 examples of the Challenger Shakedown R/T Scat Pack in Destroyer Grey, as well as 500 Widebody models in Pitch Black.
To appropriately bid the Challenger adieu, Dodge didn't hold back when it came to decking out the Shakedown. The $67,000 machine is outfitted with as many options as possible, along with a special paint scheme, a Mopar Shaker hood scoop, special graphics and badges, red contrast stitching and seatbelts, and red six-piston Brembo brakes.
Based on the Scat Pack, the Shakedown uses the Challenger's 6.4-liter Hemi V8 engine. With 485 hp and 475 lb-ft of torque, this puts the Shakedown between the 375-hp R/T (which has the 5.7-liter V8) and 717-hp Hellcat (with its supercharged 6.2-liter V8). This makes the Shakedown a perfect middle ground; it has enough power to make you feel like you're moonlighting as a bull-riding cowboy at the rodeo but not enough that you're going to get bucked if you get a little throttle happy.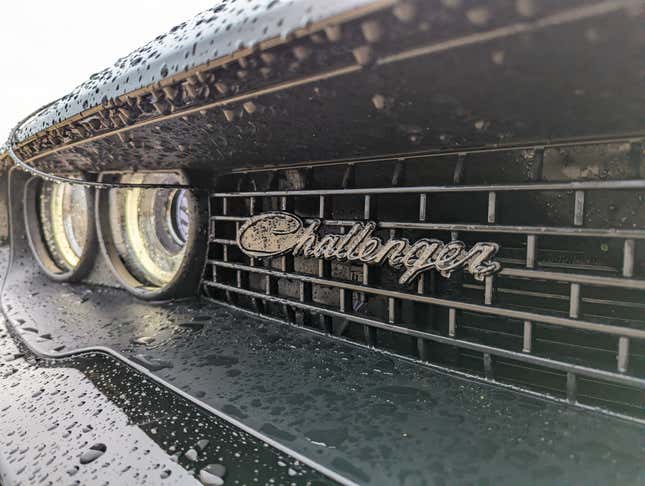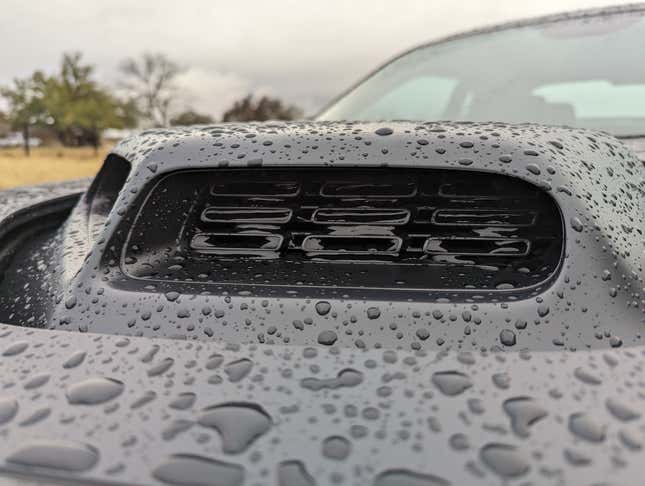 2023 Dodge Challenger Shakedown: First Impressions
I know I'm not supposed to judge a book by its cover, but stepping outside to see the imposing shadow of the Dodge Challenger Shakedown in my driveway had me giddy. The Shaker scoop alone is enough to unleash some primal source of joy deep within me, but matte black and thin red stripes overlaid on the glossy black body just looked badass. It's the kind of car you want to drive when you're meeting up with your childhood nemesis, just to flex on them that you are not only successful but are also extremely cool.
I was in the middle of my workday when this car was dropped off, but I desperately needed to do one thing. I needed to hear it. I needed to feel it, because you don't just hear a muscle car roar to life — it also throbs in your bones.
So I climbed behind the wheel. I didn't bother adjusting the seat. I didn't even bother closing the door. I pressed the "engine start" button and let out some horrifyingly embarrassing and deeply guttural cry of joy as the V8 thundered to life. For as much as the soul-rattling power of the Challenger made me want to see how quickly I could accelerate, it was also soothing. It felt right. Elizabeth Blackstock is many things, but she is meant to drive a muscle car.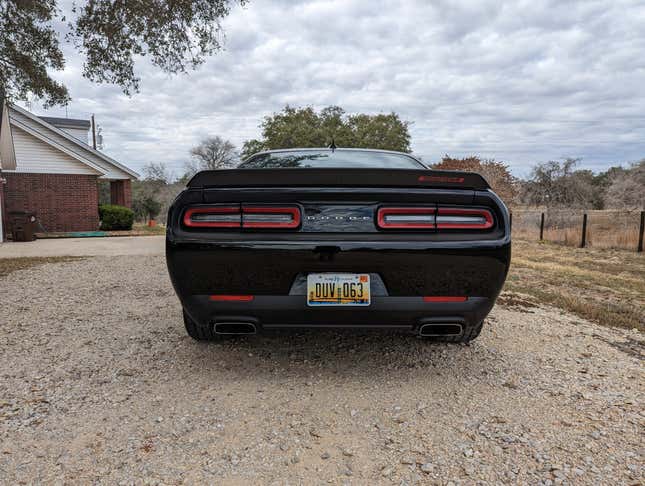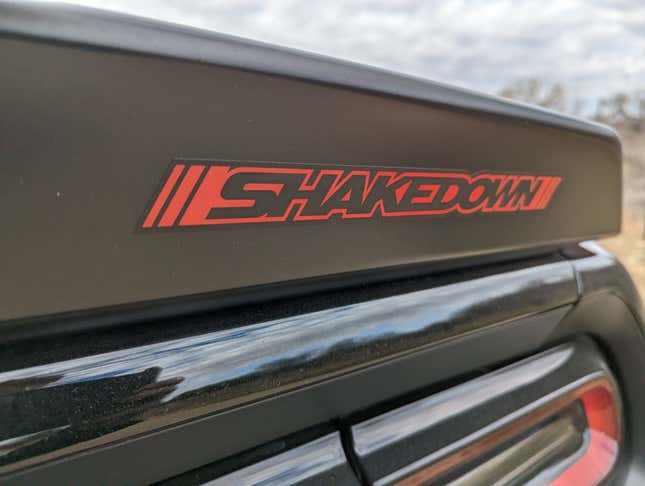 2023 Dodge Challenger Shakedown: What's Good?
Coming up with a list of a Challenger's greatest hits is kind of a no-brainer. It's dumb loud in a way that drowns out all the thoughts in your head. It's dumb fast, and you have to remind yourself to check the speedometer on the regular to make sure you're still within legal bounds of speed. It's dumb powerful, spraying my driveway's gravel out in plumes every time I launch forward (but without feeling as barely manageable as a Hellcat). It's dumb cool. It's dumb gorgeous. You'll feel like a hero driving it. That's what's good.
A Challenger isn't a small car in any sense. From a tactile perspective, the first thing you'll notice is the big cushy driver's seat. I'm not going to say it's exactly like your grandpa's favorite armchair, but as a shorter gal, I did feel like I was firmly enveloped in the seat. I also felt a little naughty, the way I used to when I'd climb behind the wheel and pretend to drive my dad's Plymouth Barracuda as a kid. With great muscular power comes great nostalgia.
Part of that, I think, comes down to the sheer size of the damn thing. The hood seems to go on for miles in front of the windshield. The rear end houses a trunk that would hold up well during an Ikea run. There's even a pretty decent amount of space for rear-seat passengers.
The dashboard and Uconnect infotainment system curve in around the driver lending a carbon-fiber-bedecked confidence that makes it feel more like you're piloting a spaceship than a car. I took a friend out for a drive and she commented on the fact that it almost seemed like she and I were separated by a partition, because this is obviously a car meant for the driver and no one else. The fact that the Challenger is so damn wide didn't help that feeling.
Part of that driver focus comes down to the fact that the infotainment system is pretty simple. I've noticed that some automakers can get a little bogged down in features and menus and settings and stats. The Challenger Shakedown strips all that away, reverting instead to the basics: music, navigation, performance. Honestly, the performance menu is the most complicated, with tons of different screens to flip through to set timers, check out g-forces and monitor your engine. It was far easier for me to navigate through countless menus of performance specs, though, than it was for me to find climate controls in vehicles with the updated Uconnect 5 system, like the Jeep Grand Cherokee L. The Challenger's last-generation Uconnect layout is far less complex.
But let's not forget the actual driving experience. I took this car everywhere. I hit the highway. I cruised around some back roads. I even popped onto a toll highway, where Texas posts a sky-high speed limit of 85 mph. It didn't matter where I was driving; I was having fun. Pure, unadulterated fun.
I won't embellish things: The Challenger Shakedown is a car best suited to brute speed, not agility. It's a behemoth of a car, and while you could easily dominate on the drag strip, the Challenger feels like it lumbers through tight turns with all the delicacy of a bull in a china shop. That sensation made it a little bit of a pain while navigating the tight streets of downtown San Marcos, but I don't want to sound like that was a massive problem. Muscle cars are, well, muscular. I wouldn't expect a bodybuilder with tree-trunk quads to contort like a yoga instructor. In the same vein, the Challenger doesn't have shortcomings so much as it has specialties, and its main specialty is being fun as hell.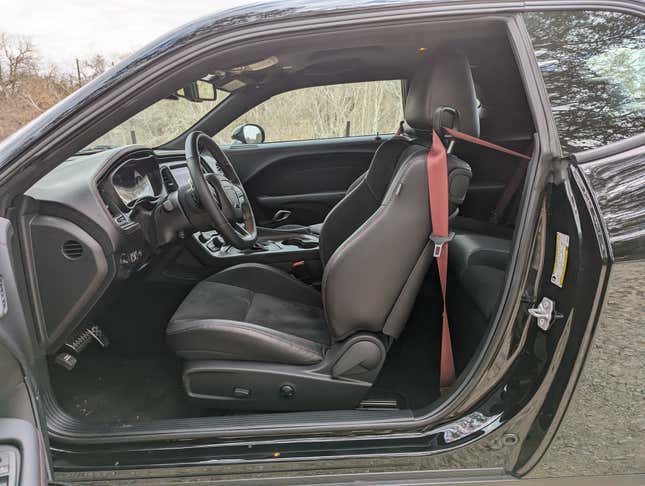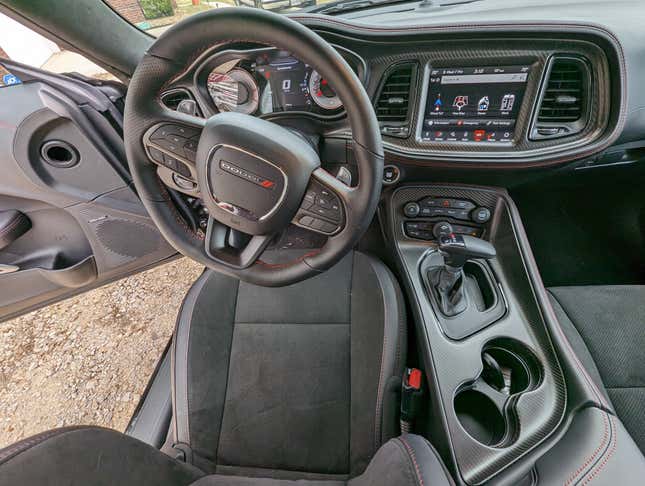 2023 Dodge Challenger Shakedown: What Doesn't Work?
Only 1,000 of the Dodge Challenger Shakedowns will be made, and the people who are going to get their hands on them are Dodge fanatics who already know what to expect. So I wasn't exactly cruising around with a critical eye.
If you've been in a Dodge in the past few years, you can probably anticipate my nitpicks, because they're the same ones I've had while reviewing muscle cars since I started at Jalopnik. The interior is not immensely luxurious when you consider its $69,085 price tag. In fact, it feels a little bit dated. But honestly, if you're driving a Challenger, are you really seeking a state-of-the-art infotainment system where all the settings are hidden behind labyrinthine screens? No. You are jonesing for a sweet taste of 1970s nostalgia swathed in a few modern conveniences, like the ability to listen to Hair Nation on SiriusXM with ease. You're not looking for lithe and nimble steer-with-nothing-but-your-fingertips performance. You want to smash the throttle to the floor.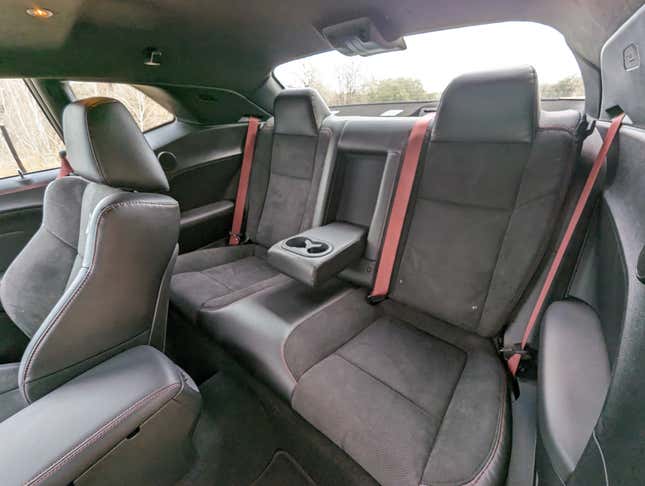 2023 Dodge Challenger Shakedown: Final Verdict
A good eulogy should be a delicate balance between respectful solemnity and celebration. You want to weave a story of the subject so that it highlights their finest qualities in order to recognize their impact on the world. You want to leave people feeling grateful for their interactions with the subject, but you want to do it in a way that also tugs at heartstrings. You want to leave people feeling equal parts joyful for what they had and mournful for what they've lost.
The Dodge Challenger Shakedown is a damn good eulogy for an icon of American muscle.
Dodge didn't go all-out to create some magical, high-tech, newly renovated Challenger, and for that I'm glad. It is, in a lot of ways, the same silly, joyful, behind-the-curve-but-timeless piece of machinery that I've loved for more than a decade. The Last Call models are supposed to link you back to the greatest moments in muscle car history. You have the pleasure of feeling yourself in conversation with a bygone era, with all the tenderness and poignancy and dumb-fast speed American muscle is known for.
I won't lie: I got a little choked up when I forfeited the Challenger keys after a delightful week.I was saying goodbye to the genre of car that turned me into the person I am today, and I knew I was going to miss it.
But the death of one icon is necessary so a new one can take its place, andI hope to someday be waxing poetic about Dodge's all-electric, instant-torque muscle car future, previewed by the Daytona SRT.
Until then, you'll find me in mourning.