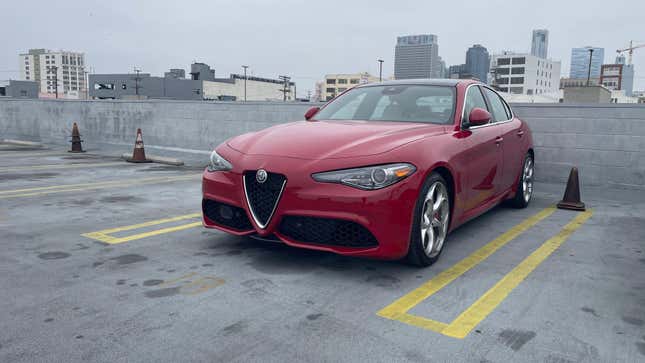 Alfa Romeo gets a lot of heat over its reliability, and for a while that was fair. However, that criticisms tend to overshadow the fact that their cars are very good. Take this 2023 Giulia I've had for nearly a week. It's probably the best kept sport sedan secret on the market.
The Giulia you see here is more or less the same car that hit the market in 2016, not long after the brand returned to the U.S. It's still available in six trims, including the wildly fantastic Giulia Quadrifoglio, of which you might notice, I'm not driving.

What I have here is an all-new limited-edition trim for 2023 called the Lusso Edizione (Ed. Note: That translates to "Luxury Edition"  — LC). Building on the $45,490 Giulia Ti trim, the $3,200 package adds Crema Cannelloni Design Leather-Trimmed Seats, leather trim on the upper dash, bright silver trim on the front grille surround, exhaust tips and window moldings, bright silver 19-inch five hole wheels with red brake calipers and a 14-speaker Harmon Kardon audio system. In addition to the beautiful Alfa Rosso (Red) exterior color that's $400, the final tally for this Italian sports sedan is $54,030.

Power for the Giulia comes from a 2.0 liter turbocharged I4. It puts out 280 horsepower, a best in class rating that never gets mentioned. It out powers competitors like the Genesis G70, BMW 3 Series, and Mercedes Benz C Class. That power gets sent to the rear wheels via a carbon fiber driveshaft where it gets put to the ground via all season performance tires.
My goal is to find out if this thing is as good as the segment leaders. But I also want to know what you would like to know about the Alfa Romeo Giulia. I'll try to answer as much as I can. Let us know down in the comments before the review drops.