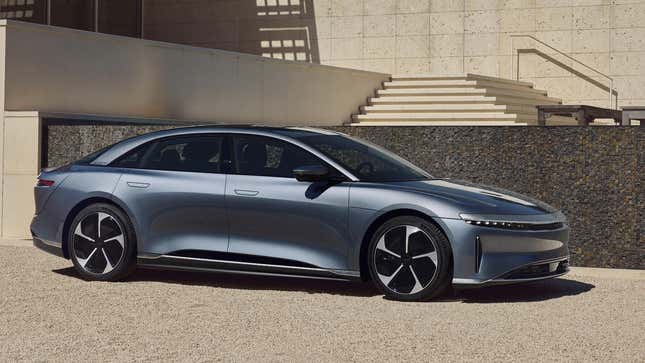 2022 was a rough year for a lot of the automotive industry, but few had it harder than the startups, including Lucid, Nikola, and Lordstown Motors. The trio of electric vehicle startups that went public by merging with special purpose acquisition companies all missed their original goals for last year by some truly eye-opening margins, according to Bloomberg.
New York Joins California, Banning Non-Electric Vehicles After 2035
The outlet reports that of the three companies, Lucid did the best. It only missed its production targets by two-thirds (!) in delivering 7,180 Air sedans in 2022. Lordstown and Nikola fared far worse last year.
The former only built 31 Endurance pickups out of the 500 it planned to make, and the latter was only able to deliver 131 Tre heavy-duty trucks. That is reportedly only a quarter of the number it had hoped to get into customers' hands. The automaker is said to have cut its delivery forecast two separate times last year, and despite that it still fell well short of the 300 deliveries it predicted in November.
Unfortunately for these three EV startups, Bloomberg says 2023 isn't looking too hot either.

The outlet says that Lucid's shares took a bit of a tumble after it released a forecast that it'll only produce at most 14,000 vehicles this year.
Still, 14,000 looks like a hell of a lot when you peer over at Nikola's projections. According to Bloomberg, the automaker only plans to deliver 375 trucks in 2023.
But, somehow it isn't the worst off of the three. Yesterday, we reported that Lordstown Motors had to pause production and customer deliveries of its Endurance electric pickup truck because of performance and quality issues.
If you thought your 2022 and 2023 have been rough, just be happy you didn't try to build a ground-up electric vehicle.