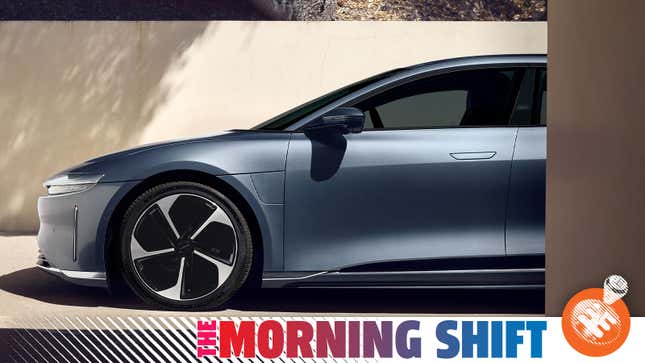 Lucid says it needs to get the word out, General Motors doesn't want its pickups to be too plentiful and electric commercial truck startup Nikola ended last year on a dire note. All that and more in The Morning Shift for February 23, 2023.

This NYC Garage Takes Vanlife To The Next Level | Jalopnik Visits
1st Gear: The Problem Is Demand, Also Maybe a Little Production
Lucid ended 2022 having built 7,180 and delivered 4,369 examples of its Air sedan. In 2023, it hopes to make as many as 14,000. Unfortunately, analysts estimated that figure would be more like 22,000, according to Reuters — which would require triple the EV startup's current output. This disappointment is currently reflected in the company's share price, which tanked 10 percent in premarket trading Thursday. You never want to disappoint the analysts. Per Automotive News:
Lucid said on its third-quarter earnings call last year that it had 34,000 reservations for various trims of the Air sedan, which amounted to an extensive backlog. But earlier this month, the automaker announced sales incentives of up to $7,500 on some Air models after EV rival Tesla Inc. cut prices across its four-model lineup. [...]

Rawlinson said that he was shifting his focus from resolving production issues associated with supply-chain constraints to drumming up sales amid softening demand.

"We've solved production," Rawlinson said during the company's quarterly call with analysts on Wednesday. "That is not the issue here now," he added.

"My focus is on sales. And here's the thing: We've got what I believe to be the very best product in the world and just too few people aware of not just the car but the company," Rawlinson said.
It's an understatement to call the Air a beautiful car. Having had the opportunity to ride in one about a year and a half ago, I was pretty quickly won over and left wondering why anyone with a six-figure sum to burn on a luxury electric sedan wouldn't consider the thing. Alas, the people just don't know about Lucid, and even the ones that do and have made reservations can dip out at any time.
The company shed about 6,000 prospective owners over the last quarter, falling from 34,000 to 28,000 likely as a consequence of waning consumer confidence from missing its earlier production plans. Lucid expects to begin taking orders for its Gravity SUV sometime this year. The public response will be telling.
2nd Gear: GM Built Too Many Trucks
It's kind of amazing how quickly the problem can go from not having enough cars to making too many, but in 2023 it's all about ensuring inventory is just scarce enough to pressure interested buyers to pay at least sticker. It's the new normal; if you want proof, look no further than General Motors idling its Fort Wayne truck assembly plant at the end of next month so that buying a pickup isn't too easy for the people. From Automotive News:
Employees were notified Wednesday that production would be idled starting March 27, GM spokesman Dan Flores said in a statement. Fort Wayne Assembly is the only factory affected by the announcement, he said.

The plant downtime is "an effort to maintain optimal inventory levels with our dealerships," Flores said. "The plant constantly reviews and adjusts production schedules according to customers' needs. All actions taken are in accordance with provisions of the UAW-GM National Bargaining Agreement and the local agreement."

Fort Wayne Assembly builds the light-duty Chevrolet Silverado and GMC Sierra pickups. GM also builds heavy-duty Silverado and Sierra pickups in Flint, Mich.; light- and heavy-duty versions of the Silverado in Oshawa, Ontario in Canada; and light-duty Chevy and GMC full-size pickups at its Silao plant in Mexico.

"Our production is up over the past month while demand remains fairly consistent, leading to an increase in inventory," Flores said. "Therefore, as we stated on our earnings call, we are going to proactively manage inventory levels, including plant downtime."
Auto News notes that GM's target of 50-to-60 day supply by the end of 2023 is still 20-to-30 fewer than its pre-pandemic plans. GM also cites a rise in custom orders contributing to this change in protocol, which makes sense, but it's not like the company's crying about that. Why would it?
3rd Gear: Supercomputers and Cars
I remember when the PlayStation 3 came out and all the nerds went mad because the Cell processor in the console was technically a supercomputer, or could be a supercomputer if you linked enough of them together. The thing about supercomputers is that they don't stay super for long — that's the unrelenting march of technology at work. But Mercedes-Benz says that when its next-generation models hit the road with Nvidia silicon and Google software together, they'll be veritable supercomputers, if for only a few months. From Reuters:
Mercedes-Benz said on Wednesday it has teamed up with Google on navigation and will offer "super computer-like performance" in every car with automated driving sensors as it seeks to compete with Tesla and Chinese newcomers. [...]

The German carmaker agreed to share revenue with semiconductor maker Nvidia Corp, its partner on automated driving software since 2020, to bring down the upfront cost of buying expensive high-powered semiconductors, Chief Executive Ola Kaellenius said on Wednesday.

"You only pay for a heavily subsidized chip, and then figure out how to maximize joint revenue," he said, reasoning that the sunk costs would be low even if drivers did not turn on every feature allowed by the chip.
This of course also opens a lane for Mercedes to double down on in-car subscriptions, though it's not like you need a supercomputer to nickel-and-dime people. I was at an Olive Garden a week ago and I was messing around on the slow, awful tablet they have on the tables now, and I accidentally spent $3 on a game of trivia.
4th Gear: A Crystal Ball Would Really Be Handy
The full transition to electric cars is something every automaker talks about, but each has a different answer to the question of how quickly that transition should be made. Our old pal Ryan Felton took stake of the differing perspectives out there for his latest in the Wall Street Journal. The whole thing's worth a read, though we'll highlight this tidbit that includes Stellantis' current and former CEOs:
Carlos Tavares, chief executive of Stellantis NV, the maker of the Jeep and Ram brands, has been similarly hesitant about racing ahead too fast. In particular, he has raised concerns about regulators pushing car companies to convert to battery-powered cars too quickly, and has said that a potential shortage of raw materials needed for the batteries to produce enough EVs could cause the industry to fall short.

"I don't know if people will adapt to a new lifestyle as fast as the car companies have adapted to a new technology," Mr. Tavares said Wednesday during a call with reporters to discuss 2022 financial results.

Mike Manley, chief executive of AutoNation Inc., a publicly traded dealership group, said auto executives have been talking more with dealers over the past year about what the pace of the EV transition should be. It isn't an easy answer, he said, because there is uncertainty about the pace with which consumers will warm to battery-powered vehicles.

"At the end of the day, if it's a problem" for the car companies, he said, "it's a problem for us."
Of course, there's business reasons for Tavares to play down EVs to some extent — Stellantis isn't necessarily at the tip of the technology these days, even though it's so massive that it always owns one or two more brands than I remember. But years from now when this transition phase is over, it'll be interesting to look back and note which companies' strategies won out and which totally missed the mark. Place your bets now.
5th Gear: Nikola
Commercial EV maker Nikola reported a loss of $222 million for the final quarter of 2022 on Thursday, a fair bit more than the $159 million the company lost over the same period the year prior. Courtesy Reuters:
Nikola Corp on Thursday outlined plans to boost deliveries and reduce costs in 2023, after the electric-truck maker missed quarterly revenue targets by a wide margin due to weak deliveries.

The automaker produced 133 trucks and delivered just 20 vehicles to dealerships in the fourth quarter, as companies dialed back spending to better cope with rising costs and a looming recession.

Nikola expects to deliver between 250 and 350 Tre battery electric trucks this year, compared with 135 deliveries in 2022. It forecast at least 125 fuel-cell electric truck deliveries in the fourth quarter.

The company also plans to start installation of an automated battery pack assembly line, which it expects will deliver about $105,000 in cost savings in battery modules and packs for each Tre BEV truck by the fourth quarter of the year.
To make matters worse, Nikola's $6.6 million in fourth-quarter revenue was about five times lower than analysts predicted. Nevertheless, at the time of writing the startup was only trading 4.5 percent lower on the day. Not bad for only delivering 20 trucks over a period of three months.
Reverse: The Kidnapping
It was on this very day in 1958 — 65 years ago — that Formula 1's first legend, Juan Manuel Fangio, was kidnapped by Cuban rebels in a stunt organized by Fidel Castro purely for publicity. Here's an excerpt from Joe Saward's post about it on this very site:
Fangio arrived in Havana on Friday February 21 and spent the next day preparing for the race, and patiently attending Batista's official functions. On the night of Sunday February 23 Lucero and his team of nine kidnappers (which included his wife) made their move. They had discovered from a journalist that Fangio was staying at the Hotel Lincoln (right), in old Havana. That evening the bar was busy with racegoers and international visitors. Just before nine Fangio emerged from the lift and joined his friends Alejandro de Tomaso (the Argentine racer who would soon start his own automobile company in Italy), Nello Ugolini, mechanic Guarino Bertochi, manager Marcelo Giambertone and advertising man Carlos Gonzalez in the foyer.

"We were having a conversation when suddenly a person in a leather jacket approached us," Fangio remembered. "He had an automatic pistol in his hand and told us all in a firm and decisive voice that we should not move or he would kill us all."

The man was Lucero and several of his accomplices were also in the lobby. At first Fangio thought it was a joke but when de Tomaso made a move to stop the kidnapper, he realised that it was serious and asked the man where he was going to be taken. Lucero assured him that nothing bad would happen and Fangio then walked with the kidnapper to a black Plymouth that was waiting at the street corner. His exit was covered by Lucero's co-conspirators.

"I found out later that there were three cars involved," Fangio said. "They drove slowly through the streets so as not to attract attention. The people who I was travelling with me apologised for what they were doing and said that all they wanted to do was to draw the world's attention to their cause."
On the Radio: Remember Sports — "Supervise"
Yesterday the band I've seen more than any other, Philly's own Remember Sports, released a video for my favorite song on their latest EP, Leap Day. They're also touring soon, and despite having seen them at least 13 times in the two years before the pandemic hit, I have not paid them a visit since. I'll be changing that in July. Give 'em a listen if you like sun-kissed, fuzzy indie pop rock.