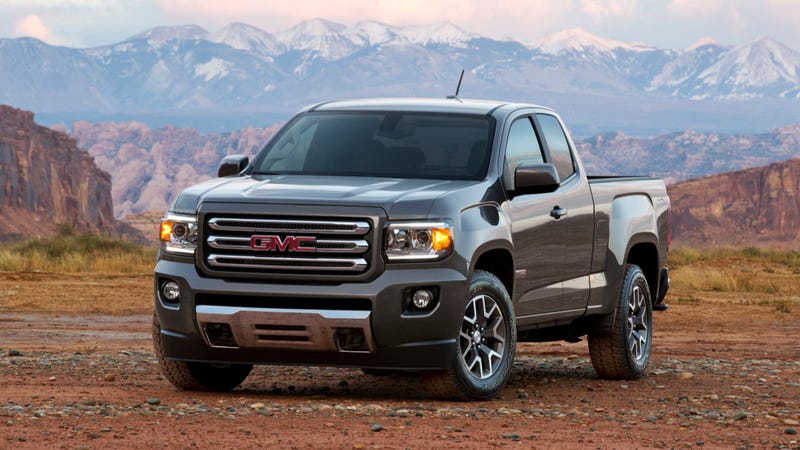 The new 2015 GMC Canyon is supposed to debut in real life at the Detroit Auto Show tomorrow, but GM decided to debut the small-ish pickup in real pictures today. It's considered to be the slightly more-luxurious cousin of the 2015 Chevrolet Colorado, but it looks more like its big brother, the GMC Sierra.
It looks all very good and well for those of us that want the option of doing physical work with out a big physical monstrosity of a truck, and hey, it's got an available six-speed manual, in the smaller trim levels. Huzzah.
Despite being designed for work, it's seems to be pretty smart for a pickup. There's a new "GMC Appshop," where you can download your, well, apps, and a "Teen Driver" feature similar to Ford's "Nanny Key," according to GM:
Teen Driver is a new, configurable IntelliLink feature that allows parents to set a radio volume limit, establish a speed warning set between 40 and 70 mph, and set a speed limiter. It also automatically mutes the radio when the driver or front passenger safety belt is not fastened and a "report card" that records mileage, wide-open throttle events, ABS events, maximum speed and other data. The custom features are locked by a PIN, which is set by the parent.
That should be fun, for the kids.
A 2.8L diesel engine is coming next year as well. Let's just hope you can get that with the six-speed, for the ultimate Jalop truck.
The new Canyon looks to be a massive upgrade in the aesthetics department from smaller pickups of years past. And it looks to be a pretty big everywhere else, as well.
Except, you know, if you're a teen.
Photo credit: GM