Yesterday, we told you the freshly renovated and re-focused 2010 Lincoln MKZ is a solid offering in a segment full of solid offerings. Now let's take it apart, piece by piece to find out how it stacks up.
The Ford Taurus Is Reborn — But Only For the Middle East
G/O Media may get a commission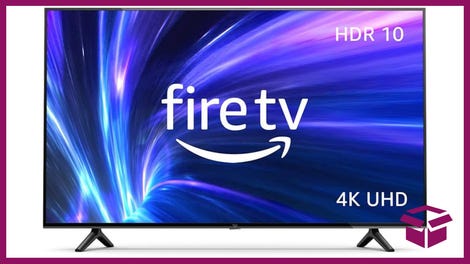 42% Off
Amazon Fire TV 50" 4K Smart TV

Exterior Design: ***
This updated version of the MKZ is handsome without being obnoxious. This is only the second generation for the entry level Linc, so it still feels a bit awkward in the enty-luxe segment, but it's much more believable than the previous model. The slimmed down tail lights and smoother front end make it a convincing pretender in the luxury segment, though we're not yet entirely sold. Take those as constructive criticism, cause it's a rather handsome car, though you can easily see its Fusion heritage.

Interior Design: ****
There's really little for want in the new MKZ's interior. A few niggling fit and finish issues hopefully tied to early fleet builds aside, this car is bolted down tighter than the deck of an aircraft carrier. The wood and chrome trim flows beautifully into sturdy and appropriately finished plastics, the gauges are handsomely designed and everything possesses a simple but functional harmony that's fitting for the segment. The well-appointed seats are covered in Bridge of Weir leather and both heated and cooled and provide enough power adjustments to accommodate nearly anyone. Order the high-contrast interior and it really pops with piping and seat inserts.
Acceleration: ***
A 7.1 second 0-60 MPH puts the MKZ in the adequate but not noteworthy portion of the price segment. We're talking $34k to $42k, so it's a very, very crowded field and 7.1 isn't something to write home about. Quicker would be welcomed, but the balance of fuel economy means we're not going to complain too much. That recently announced 2.0 liter turbo Ecoboost would certainly make things more interesting.
Braking: ***
Brakes are strong, and they come with ABS and electronic brake force distribution. Repeated stompings produce mild fade, but if you're punishing your brakes in this car, may we politely suggest something sportier?
Ride: ***
The MKZ rides the line between a comfortable luxury tune and one which provides enough feel so you know what's going on at the wheels. It doesn't get upset when extended rough pavement presents itself, you'll know it's there, but you won't be dodging it in the interest of comfort. It's right on par with the excellent ride we've seen with recent offerings from Lincoln, composed and smooth, but without the distant feeling from some of the more established competition.
Handling: ***
Toss the MKZ into a corner and it'll obey till you get really silly, then it understeers. It's somehow not particularly controlled and yet really fun to drive. Our FWD model reminded us of the first gen Focus in its predictable, nimble handing and FWD competence.
Gearbox: ***
Unfortunately the four-pot and manual transmission are not available on the MKZ as they are with the Fusion, but the six-speed automatic mated to the 3.5 liter V6 isn't too shabby. Yes it makes it a bit more of an old man's car, but it's snappy with the upshifts, downshifts in the manumatic mode are somewhat okay and in general it's as transparent as a modern autobox could hope to be.
Audio: ***
The sound system is suited for the car, it does everything you ask in relative competence without making you feel like there's any undue effort required. It's clear when you want clarity, booming when you want bass, easily tuned, the satellite radio system works flawlessly when you get tired of the contents of the in-dash CD changer.
Toys: *****
We've yet to find a better all-around toybox than that offered by Ford. Their optional navigation/satellite radio/Sirius Travelink/Sync system makes systems on cars costing tens of thousands more seem years behind. That has nothing to do with this being a Lincoln, that's just the Ford system in general. Of course it also comes with the de rigeur superfluous backup camera, heated and cooled seats, iPod hookup through USB and aux in.
Value: **
As we mentioned yesterday, the MKZ lives in the $34k to the $42K price range, which buys you an awful lot of car elsewhere. We'd have a hard time picking one of these over the cheaper and larger 2010 Ford Taurus.
Overall: ***
The MKZ is a solid improvement over the previous version. It wears better styling, noteworthy improvements inside and under the hood and it's generally a nice car to live with, but so are its competitors. The MKZ is one of the few cars we were genuinely sad to see leave the driveway, if only for its competence, decent fuel economy, brilliantly executed technology and lack of annoying foibles, but we're not sure we'd feel the same way if we'd paid for it. As a marker on the path to the reborn Lincoln, it points in the right direction. Bottom line is, this car makes a great Ford and a nice, though questionably priced, Lincoln. Nice, unfortunately, will not cut it in this segment.
Also see:
• 2010 Lincoln MKZ: Part One
2010 Lincoln MKZ 4dr Sdn FWD Specs
Transmission/Drive
Automatic