The 2010 Lincoln MKZ inhabits an awkward niche somewhere between badge engineered competitive sedan and aspirational luxury vehicle. We didn't know that segment existed either.
The Ford Taurus Is Reborn — But Only For the Middle East
G/O Media may get a commission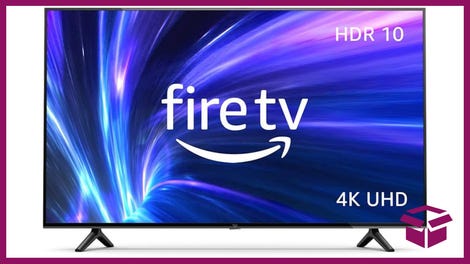 42% Off
Amazon Fire TV 50" 4K Smart TV

We're at the time of year when school is out, every teenager who's going to get a high school diploma has done so and they're either getting started with an embryonic career or waiting till the fall and the start of college. They've all been deemed proficient in reading, writing, and 'rithmatic, but let's be perfectly honest, they're not prepared for the real world in any noteworthy way. A college graduate, as soused as they may be when they pick up their sheepskin, has been put through a different type of wringer, more strenuous, more focused on something useful to society. Well, unless they majored in communications.

For Lincoln, a brand struggling to find its place in the world for quite a long time, the 2006 MKZ represented a basic level of competency in the entry luxury segment. It made all the right moves: leather, navigation, shiny chrome, et cetera, but it didn't really have what it took to make it against the competition. It was your basic high-schooler setting out to take on the world. It was okay, but for the price it was a a tall order. Now it's 2010. It's gone to college, matured a bit and is more comfortable in its role, but that doesn't means it's not still wet behind the ears.
The MKZ adopts styling fully realized on the MKS and MKT. On those vehicles its bold and polarizing and, let's be honest here, if the brand wants to make waves in the lux market and leave its old-man-and-the-car image behind, Lincoln has to be bold. On the MKZ, the styling wears a bit awkwardly. Not quite as jaunty as the sportier Fusion, not as serious as the MKS. It's a car whose looks are highly dependent on color. It's spectacular in pearl white, a little funny looking in green or brown. The optional satin finish wheels go a long way to make the car play in the big-boy leagues. If you get past the baleen grille, it's quite handsome in proportion, and the rear has a far more finished appearance than the original.
When the rubber hits the road, the MKZ fits perfectly into the segment, its 3.5 liter V6 and six-speed automatic provide smooth power delivery which is not for want. As with its Ford Fusion platform mate we're not talking drag strip stunner, but in a straight line the car will accelerate to 60 MPH in 7.0 seconds, which is pretty respectable. At freeway speeds the car is dead silent, dangerously silent actually. It's not uncommon to look towards the instrument cluster only to find thoroughly illegal speeds. The ride is a good balance between comfortably soaking up road imperfections and providing flat enough cornering to raise the pulse of any mid-level manager who buys this car.
As with any car in this segment, the primary focus of the car is the interior. Leather seating comes in everything from a sedate black to a snazzy white-on-black contrasting mix which looks extremely nice. French stitching classes up the joint while adding a bit of durability for the long term. If there's one thing Ford products show mastery in, it's the electronic gadgetry. The MKZ comes with Sync, Sirius Travelink, aux inputs, MP3 integration, hands-free phone operation, heated and cooled front seats and other various goodies. The good news is all that "base" tech is invisible if you have no use for it and flawless in operation if you do. As far as electro-doo-dads, Ford really does have its ducks in a row.
It all sounds pretty good doesn't it? A mid-size sedan with comfy seating, well-executed features, decent power delivery and segment targeted handling, but here's the dubious part: assembly quality. This is always the terrible balance in evaluating press cars. With a couple thousand miles on the clock, the possibility of serious abuse at the hands of fellow hacks is definitely real and we have to balance it against what we see in the rest of the car. Most cars get a pass at small imperfections, but the MKZ just had too many issues to ignore. The hood didn't align properly at the cowl, the bumper cover continually popped out of flush just below the headlights on both sides after rough pavement driving and the ignition didn't even come close to lining up with the surrounding plastic. They're outliers on an otherwise extremely well assembled car, but we're leery of dismissing these issues as abuse related. Judge for yourselves at the dealer if you're so inclined.
For sure, Ford sent the MKZ to a mid-level private school where it made high marks. It's part of a more competent Lincoln as of late, one attempting to move up in its class, make a name for itself rather than just coasting along with a C-. If you've got your heart set on a Ford product, we'd be hard pressed to recommend it against the newly-minted Taurus as the MKZ starts at $34,240, and a well appointed one enters Taurus SHO territory at $37,255. Otherwise, there may be better options out in the marketplace than this.
2010 Lincoln MKZ 4dr Sdn FWD Specs
Transmission/Drive
Automatic