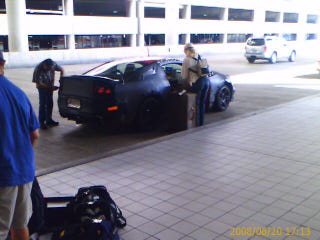 The new 2010 Ford Mustang had heard all about Ford's plans to build vehicles down South. The new 2010 Ford Mustang really wanted to get out of Flat Rock, Michigan because the winters were so very cold. He wanted to roam an eternally sunny countryside where gas was cheap and subsidized.

So the Ford Mustang packed up his accessories from Shelby and Saleen and Roush, and drove off to Detroit's Metro Airport to catch a flight to Mexico. Except he forgot just one small thing — freight doesn't fly out of the McNamara terminal and he was too big to fly Northwest.

But the new 2010 Ford Mustang didn't know where freight flew out of. So he searched, and searched and searched, hoping to find out where he could find a plane big enough to take him.

The pretty new Ford Mustang even asked his friend the 2009 Corvette ZR1 powertrain mule, but he couldn't talk because he was in jail over some bad photos.

So the new Mustang sadly drove home to Flat Rock.

The end.
(Hat tip to Bruce!)