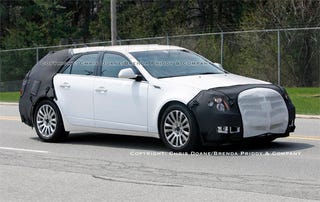 While we're not entirely sure of the year nor the designation — we're pretty sure what we've got here is what we've been talking about for quite some time now. Yes, that appears to be a wagon-ized version of the already popular Cadillac CTS. We are going to hazard a guess that if it's being built starting next spring it'll have to be a 2010 CTS Wagon. Of course, with the current guess of the Cadillac CTS coupe bear a designation of "CTC" we're thinking maybe the General could name this big-in-the-rear and blade-edged Caddy the "CTW." Whatever. Seriously, the boys and girls at the General can name whatever they want to because all we know is that is surely some seriously pants-tightening Cadillac Style going on under that camo cladding. We likey. Full report from the spy monopoly of Brenda Priddy after the jump. UPDATE: We bought KGP's shots too — if only for the interior and open-hatch sexiness. Don't say we don't love you guys.


CTS Wagon SPIED!!

Today we caught the third Cadillac CTS variant out testing, the CTS wagon.

Codenamed GMX 206, GM will start building this luxury wagon in the Spring of 2009. It will be built along side the CTS sedan and coupe at the Lansing Grand River Assembly Plant. Expect GM to build around 10,000-12,000 units a year with a significant portion of that run earmarked for sales in Europe.

Back in the U.S., once GM kills the SRX in the first or second quarter of 2009, it will be replacement by committee with the CTS wagon and BRX attempting to fill the SRX's spot in Cadillac's lineup.