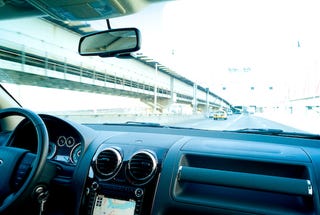 Jalopnik Reviews
All of our test drives in one convenient place.
The Taurus X made us hope for a true alternative to an SUV or a minivan. Something that delivered their functionality without the image problems both other classes of vehicle suffer. Instead, it compromises on ability while carrying over too much height from an SUV and the family-man image of a minivan.



And therein lies the Taurus X's damning fault. Ford hopes it will appeal to people who don't want an SUV, but the company still decided to make it look and act as much like one as possible. It's at least 4 inches higher than it should be and simply doesn't need the optional all-wheel-drive. What you're left with is a car that feels like it could and should be a simple, practical station wagon that costs $5,000 less. By failing to take this risk and hoping to latch on to what little of the SUV-craze is left, Ford has made a vehicle completely bereft of a unique selling point. I can't be the only person out there with a soft spot for big station wagons.
It does, however, deliver on the seating capacity. Adult passengers can sit in comfort in all three rows, whether equipped with the three-seat bench in the middle or the two captain's chairs. The raised third row even offers a decent forward view, and the back gets its own climate controls. With all three rows full, luggage capacity isn't great, but the 15.8 cubic feet of space should be plenty for a shopping trip or morning school run.
It's simply not good enough for a manufacturer to just build a car anymore. They need to build a good car. Anyone who's driven Ford Europe's S-Max — a 7-seat MPV that's good to drive, good looking and economical — knows the company can do better. They desperately need to.
If we were in the market for a 7-seat Ford we'd wait until summer, when the company plans to release the Flex. Ostensibly a minivan without sliding doors, it will compete directly with the Taurus X on price and the number of seats, but features such a unique and appealing look — part 1950s wagon, part Scion xB (trust us, it works) — that it looks set to define an entire new category of vehicle: the stylish, desirable minivan. It should be quite a combination.
This concludes our review of the Taurus X. Parts 1-3 are available below and can always be found under the Jalopnik Reviews tag at the top of the front page.
Photo Credits: Cydney Goldberg, Grant Ray