Welcome to Down On The Street, where we admire old vehicles found parked on the streets of the Island That Rust Forgot: Alameda, California.
Alameda seems well-stocked with Darts; in this series, we've seen this '64 Dart coupe, this '64 Dart wagon, this '66 Dart GT (which I shot just down the block from today's car), this '69 Dart GT convertible, another '69 Dart GT convertible, this '70 Dart with Buick hubcaps, and this Malaisetastic '75 Dart Swinger.


G/O Media may get a commission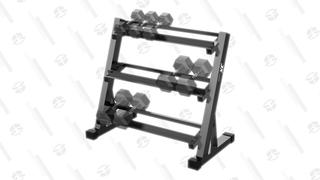 20% Off
JX Fitness Dumbbell Rack
Gains but tidy
Has a three-tier design to help store more weights more conveniently, can safely support up to 1000lbs of weight, which should be enough for most people, has a triangle base for stability, and also features anti-scratch feet which is great if you've built your own studio or workout in your garage.
This street boasts quite a few DOTS honoress; that's the '59 Ford F-100 a few spaces down from the Dart.