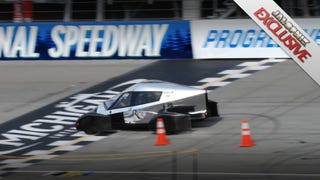 Oliver Kuttner is tired. He's tired of your attitude. He's tired of your conclusions. Mostly, he's tired because he just got back from Germany and is so jet-lagged he's almost drunk. Germany was good. They get it in Germany. They definitely get it in China. Not here. Not in America. You don't get it and, even if you…
The $10 million Automotive X-Prize was billed as a "Revolution Through Competition," which backers said would promote real-world-capable 100 miles per gallon vehicles that are "safe, affordable and desirable." The reality is it's a complete farce.
The Edison2 Very Light Car has won the grand prize $5 million Progressive Automotive X Prize for a 100 mpg+ vehicle, and it did so without a hybrid drivetrain or battery power. Its secret? Small displacement and low, low weight.
Remember the 2004 movie I,Robot starring Will Smith, a bunch of crazy Apple-inspired robots and the spherical drive-equipped hovering Audi RSQ? Now there's a company trying to bring that to life, building a hover DeLorean as an entry for the Automotive X prize.
Doug Pelmear is claiming his '87 Stang is good for 400 HP and a 3 second 0-60 MPH time, all while returning a 110 MPGe figure. MPGe? Yeah, that's miles per gallon equivalent; because he's using E85 ethanol, that figure might be about 80 real miles per gasoline gallon. So, is Doug one of those garage tinkerers who…
Hybrid Technologies, makers of electric Minis and the Mullen Motor GT, are working on a lithium-ion/gas plug-in hybrid not only capable of achieving 220mpg, but horsepower numbers that promise to eclipse those of the 638bhp Corvette ZR1. Speaking to Popular Mechanics, product development engineer Ron Cerven revealed…
At the Automotive X PRIZE debut party at the NY Auto Show there were a few interesting prototypes of cars their makers believed could meet the Auto X PRIZE requirements of making a marketable vehicle that gets 100 miles per gallon of dinojuice. The folks from Motive Industries were around to talk-up their proposed…
Today in the Javits Center during the 2008 New York Auto Show, X Prize Foundation President Dr. Peter Diamandis, along with New York City Mayor Michael Bloomberg, announced Progressive will be the corporate sponsor of the long stewing Automotive X prize. The Progressive Automotive X Prize will award $10 million to the…
We previously mentioned that the good folks at the X PRIZE foundation would be bringing X PRIZE entrants to Detroit, and now we've got a full list of all the cars that will be vying for the $10 million prize. For those not in the know, the X-PRIZE will be awarded to the company that can build and market a 100 MPG…
The Automotive X-Prize competition is jumping the gun this year and will be unveiling all 43 entrant at the Detroit Auto Show next month. This is big news for the entrants because it will allow surveying of the competition three months prior to the actual beginning of the $10 million competition in March at the New…
Want a check for 10 extra-large (that's millions)? All you have to do is prove you can design, build and bring to market a car that can get 100 miles per gallon and that people will buy. It sounds simple enough, and 31 teams have already signed up to compete for the Automotive X-Prize (you remember the X-Prize people…