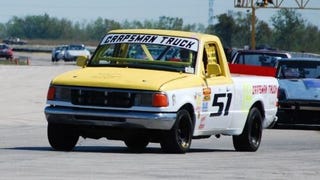 We've seen Nissans, Toyotas, and Rangers in LeMons races, and they've (mostly) been pretty lackluster on the race track. The shocking thing is the lack of Toyota truck reliability, but perhaps you really do get what you pay for when you buy a very used-up $500 Toyota truck.
About 15 years ago, I received a little potted Araucaria heterophylla tree as a Christmas gift. Many repottings and several moves later, it now stands about 15 feet tall and has outgrown my tiny house.
For the first time ever, Detroit iron dominated a 24 Hours Of LeMons event, with American-built machinery taking four of the top five positions (if you consider a California-built Corolla to be American-built, that is).
Toyota appears to have hit upon a novel way of unloading excess US truck and SUV supply: Send the vehicles overseas. While no firm decisions have been made, Steve St. Angelo, president of Toyota Motor Manufacturing Kentucky, told a group of industry observers the company's full-size Tundra pickups and Sequoia SUVs…
Our last Japanese representative on DOTS Truck Monday was the '80 Plymouth Arrow, but the last one actually bearing the name of an overseas manufacturer was the '74 Datsun of a couple months ago. That means we're due for another Japanese Truck Monday, so let's take a look at this fine tape-striped Late Malaise Toyota…