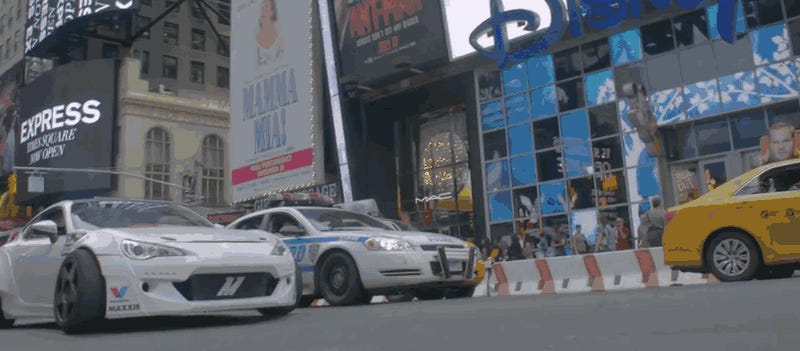 The swamp muck tourist trap Times Square is unquestionably the most crowded, busy, garbage place to take a car just about anywhere in the world. So we took this 500 horsepower "street car" built by professional drifter Ryan Tuerck there to see if it could handle it.
Suspicious individual parks van in Times Square. Runs away. Bomb squad en route. [Reuters]
Tesla Motors CEO Elon Musk responds to a reporter's question following the company's IPO on Tuesday. Maybe now he'll be able to afford a fashion consultant — mixing plaids and check is always a bad idea. Photo Credit: Mark Lennihan/AP
Saturday, a Nissan Pathfinder loaded with propane and gasoline was discovered in New York's Times Square after onlookers saw it smoking. Bomb Squad technicians were called to dismantle it. Expect mass-media mass-hysteria when sponsorship money clears (immediately). [ABC.net]
Last Sunday, New York City sealed off Broadway to traffic at Times Square and Herald Square, from 35th to 33rd Streets. A day later 350 lawn chairs were set out where cars had previously reigned supreme. Is this the future?
In defiance of the crowds that will pummel NYC's Times Square later in the day, the dawn offers a few moments for calm reflection among a bazillion watts of advertising signage. The only souls stirring at such hours are the line cooks at TGI Fridays, who will prepare 2.7 billion plates of potato skins before the day…
Richard Rawlings, propriator of Dallas's Gas Monkey Garage and one of Bullrun's bigger 'n Texas personalities, took some time out of his rally prep regimen of struttin' and testifyin' to do an on-camera ID for a crew we believe comprised the official Bullrun documentarians for TV. Later in the day, Rawlings was…