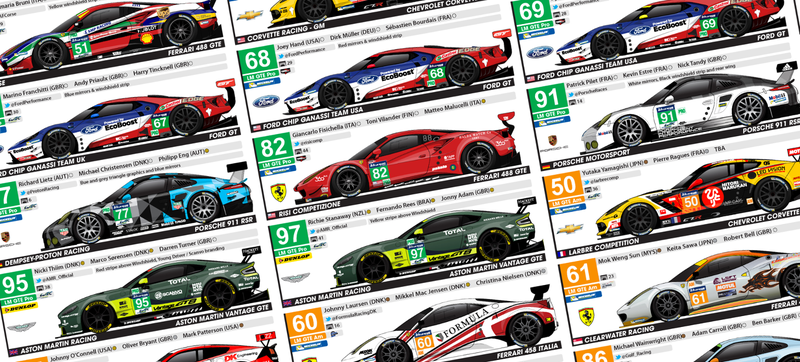 With 60 cars entered in this year's 24 Hours of Le Mans, it can be hard to tell them all apart. Here's a handy tool that can help with that. Graphic designer Andy Blackmore puts together spotter guides for many of the big races across the world, including the 24 Hours of Le Mans.

Having trouble telling the cars apart for the 12 Hours of Sebring? Never fear—we've got you covered. You can download the handy official Spotter Guide for the race here.

Le Mans brings out a lot of wild one-off liveries and extra entries that don't typically run the full World Endurance Championship season. How can you tell who's who? With a handy spotter guide, of course. Here's Andy Blackmore's latest edition, updated with all the liveries that went through scrutineering.

There are a crap ton of cars at the 24 Hours of Le Mans this weekend, and let's be real here, class-by-class they all look pretty much the same. Now you can ID them all with this excellent Nismo spotter guide.
Another year and another 24 hour demolition derby/sprint cup comes to Le Mans. How can you keep track of all the Audis, Toyotas, Ferraris, and Porsches swarming around the Circuit de la Sarthe? With Andy Blackmore's excellent spotter guide, of course.
The American Le Mans Series returns this weekend with the 12 Hours of Sebring. It's the only place you can watch Audi, Honda, and Lola prototypes weave past Ferraris, Porsches, BMWs, and Corvettes. Which is why you're going to need this spotter's guide to keep track of them all.
The 50th running of the Rolex 24 Hours kicks off this weekend at Daytona, and the field is going to be so packed with sports prototypes, Porsches, Audis and Ferraris that you'll want this spotters guide to keep track of everything.
With practice under way for this weekend's 24 Hours of Le Mans it's time yet again to feature the awesome 2011 Le Mans Spotter Guide complete with every car, team, driver, and livery. How else will you be able to tell the light blue Evoras apart?