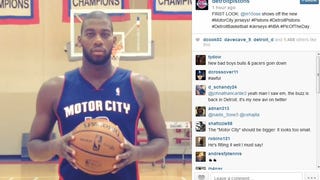 Look out, Detroit vs. Everybody! Soon Royal Oak residents will have another way of showing how much they love the city by wearing it on their chest instead of actually visiting there.
How bad has the 21st century been to the city of Detroit? New Census data shows it has 713,000 residents — the fewest people since 1910, and likely smaller than Austin, Texas and Columbus, Ohio.
Yesterday, Chrysler apologized for a profane message about Detroit drivers that was sent into its Twitter feed by an employee at social media firm New Media Strategies who was then fired. Today, Chrysler announced it fired New Media Strategies. UPDATED.
Former morning DJ and gold shill Glenn Beck compared Detroit to Hiroshima, based on an email debunked by Snopes. Next targets: Uncovering the 50-mpg carburetor, how Jimmy Hoffa was killed by Obama and the socialism inherent in Coney dogs.
Hey, buddy, can ya spare a fire truck? [WXYZ]
Faced with dwindling resources, overcrowded prisons and much more significant crimes, Detroit police are now ignoring traffic infractions. Below, ABC News describes an incident where Detroit's police chief let someone driving without a license go with merely a warning.
GM CEO Fritz Henderson acknowledged Monday the automaker's open to moving from its RenCen world headquarters along the Detroit River to save millions in taxes. Can Detroit still be called the "Motor City" without automakers?