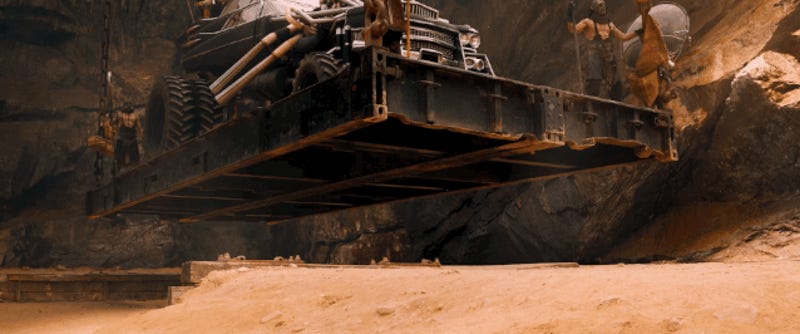 "Make it cool or I'll kill you." That's what director George Miller told Colin Gibson, the production designer responsible for all the cars in Mad Max: Fury Road. Gibson did one better: he made every single one of them functional, because the desert doesn't suffer mechanical fools lightly and CGI is bullshit.

Anyone else out there as pumped for Mad Max: Fury Road as I am? George Miller, the series' creator, is back writing and directing, and Tom Hardy stars as Max Rockatansky, the ex-cop fighting his way across a post-apocalyptic wasteland.
A new batch of deranged images from the set of Mad Max: Fury Road reveal a fleet of killing machines, wacky skin mask fashion, and potential nemeses. We're not sure, but we do know that this Mad Max is going to be a lot different from its predecessors, just in terms of special effects and crazy new characters alone. …
Check out your first glimpse of a huge, hellish vehicle from the fourth Mad Max movie, now filming at last after years of delays. What do you think this monster is? In the photos below, you can glimpse the "Wives," the new female characters in the movie, sitting in what looks like the cab of that same massive…
After we revealed yesterday Mad Max 4: Fury Road is green-lit, director George Miller's provided a sneak-peak at two cars from the new movie. One is the Max's iconic supercharged Interceptor, the other, a monster-motored hot-rod pickup.