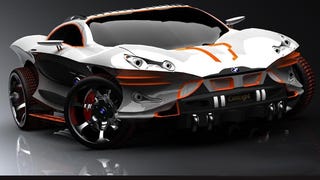 BMW has proven that there are very few bridges to questionable design in relevance-free segments that it won't cross. Filling the void, one independent designer has put forward the BMW X9 Concept. Prepare to have nightmares.
The young pups over at Automobile have put together an interesting... looking... comparison, pitting the BMW 5-Series GT against the Porsche Panamera S. Who'll win? Nobody knows, but Sir Mix-A-Lot looks to come out on top either way. [Automobile]
In case you were wondering, there are some redeeming characteristics to the BMW 5 Series GT. First, it's got frameless windows, which are always cool in our book. Also, with the half-hatch open, it looks like a giant guppy.
We haven't exactly been coy about our opinion of the BMW 5 Series GT, it's questionably-necessary and lumpy. Such needn't be the case though as evidenced by this JDM Honda Odyssey modified with an E92 BMW 3-Series Coupe nose.
We just received official pricing for the BMW 550i GT — you remember, the 5-Series GT — the car you're desperately trying to forget wears the little blue propeller on the hood? The 4.4-liter V8 model starts at $64,725.
At an briefing today on the upcoming BMW 5 Series Gran Turismo, BMW's manager of product planning, Martin Berkmann, explained the new GT may spell the end for U.S. imports of the 5-Series wagon. Only time and sales numbers'll tell.
Tipster Pearse caught the new production BMW 5-Series GT lazily hanging out for a photo shoot with models, hipsters and businessmen near the Holland Tunnel entrance in Manhattan. You know, where most of these will end up hanging out anyway.
BMW plans for boosting and lifting automotive rear ends continue with the BMW 5-Series GT. While we already saw the concept in Geneva, these are the first official shots of the production version, set to debut at September's Frankfurt Motor Show and go on sale in early 2010.
Try hard to find something different between this lightly camouflaged 2011 BMW 5-Series GT and the concept version. We're pretty sure the only difference is the addition of pop-up headlight washers.
What kind of drunken mess occurred in the creation of the 2010 BMW 5-Series GT? The sketches below indicate the Concept CS, X6 and 5-Series mated to create this carefully designed mutant love child.
Our friends at BMWblog got photos from the preview of the 2009 BMW 5-Series GT Concept prior to its official debut in Geneva. Thankfully Bangle finally moved aside so we can show the new design.
The video carries us through a stream of conscious design process in cartoon form, gently dancing around the points which say "we're building a fancy minivan" with so much marketingspeak you'll need hip waders to watch it. That's not to say this new WTF-UV they're hinting at doesn't have some innovative features. From…