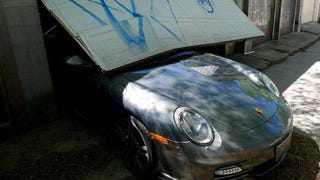 What catches your eye here, aside from the flambe'd New Jersey Porsche 911 Turbo, is the slovenly business-type on the phone. ("Man, I don't know what happened. Maybe the hooker's cigarette fell between the seats?") [MyJerseyCentral]
Peter Cheney lived every autojourno's worst nightmare when his son accidentally launched a brand new $180,000 Porsche 911 Turbo press car through his garage door. It's what you get for not teaching your kid to drive a stick. [TG&M]
Porsche's Weissach skidpad in the mid-1970s. Look upon these fisheyed works, ye mighty, and despair. Enjoy the weekend!
The 2010 Porsche 911 Turbo can hit 100 MPH in under eight seconds yet is apparently so boring you can drink coke while doing so. We miss Porsches that would kill you as soon as look at you.
It may look like the old Porsche 911 Turbo, but this newest version of the 997 Turbo has been upgraded with the Carrera's 3.8-liter direct-injection mill. Can this old dog learn a new trick?
If you want your run-of-the-mill Porsche 911 Turbo to scoot off the line with a bit more authority, get over to tuner DKR which offers an engine package for only $7,500, good for 540 HP and 571 lb-ft of torque. Considering the extent of the upgrades are an exhaust system and a performance ECU, that's a healthy kick in…
Going back to our QOTD, how important is it that you look cool driving a car? Because there's a certain 1991 Porsche Carrera modded so that it achieves 739 horsepower. It also features a performance suspension, Recaro racing seats, gigantic brakes, roll bar, BBS wheels and a handful of other modifications. And the…
What's 100 horsepower between stoic, cross-border acquaintances? That's exactly what Switzerland's Sportec has accomplished vis à vis their Teutonic neighbor's Porsche 911 Turbo. It's the SP580, a title comprising the tuner porker's horsepower figure. The top kit among three stages of tweakage includes a turbo…
It was just a matter of time before TechArt unveiled its take on the new 997 Porsche 911 Turbo. That day will arrive next month, when the GTstreet takes a bow at the Geneva show. And compared to the company's last iteration, the bar has been lifted in an upward fashion. TechArt boosted horsepower to 630 from the…