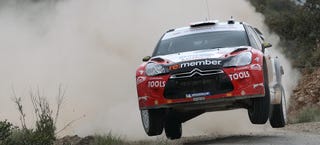 Weekend Wallpaper
Put these on your desktop to look cool and awesome.
There has been a bit of talk of rally cars and Citroens today, and that can only mean one thing. Citroen rally car wallpaper.
Petter Solberg drives like a mad scamp, as a proper rally racer should, and this flying leap of a photo taken at the WRC race in Portugal is no different. If all commutes were like this, the world would be a much better place.
Photo credit Kyn Chung. Used under Creative Commons license. For a desktop version, click here.
Weekend Wallpapers are featured on Saturdays. Got one you'd like us to run? Send it to ballaban@jalopnik.com with the subject "Weekend Wallpaper." Just make sure you have the rights to use it.