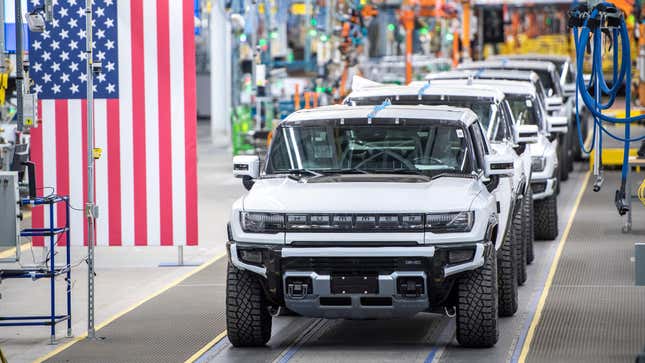 Good morning! It's Thursday, May 25, 2023 and this is The Morning Shift, your daily roundup of the top automotive headlines from around the world, in one place. Here are the important stories you need to know.

Ultra Cruise is GM's Answer to Tesla's So-Called 'Full Self-Driving'
1st Gear: GM, Samsung Get The Green Light
General Motors and Samsung's battery plant in northern Indiana is taking shape, per Automotive News. Remember — this plant was originally supposed to be shared with LG until negotiations broke down. GM and LG are running one battery plant currently and have two more in the making. Local officials have reportedly signed off on the Samsung facility:
The automaker has proposed spending $3.5 billion on what would be its fourth U.S. battery plant, according to government officials. The project outside New Carlisle, Ind., would have roughly 1,600 full-time employees by the end of 2027, at an average wage of $24 per hour, according to a development agreement filed with St. Joseph County.

County officials on Tuesday approved a development agreement and tax abatement with GM for the project. It amends an earlier agreement approved last year between the county and Ultium Cells LLC, the name of GM's joint venture with LG Energy Solution. Talks with LG broke down over a fourth battery plant that would follow three in operation or under construction in the U.S.

GM in April formed a joint venture with South Korean battery manufacturer Samsung SDI and said the two companies planned to invest more than $3 billion to open a plant by 2026.

A GM spokesperson said the automaker has not yet decided on a location.
According to a GM representative quoted in the article, the location of New Carlisle is still technically tentative, but it seems likely at this point. GM and Samsung will produce cylindrical as well as prismatic cells there, which should give the automaker a bit more leeway in terms of applications for different kinds of EVs. Let's hope one of those includes a compact one. People sure do seem to be missing the Bolt now, right in time for GM to announce a massive luxury electric SUV few are poised to afford.
2nd Gear: UAW Supports Supplier Strikes
The United Auto Workers' new president, Shawn Fain, has endorsed two strikes at suppliers Clarios and Constellium that serve GM and Ford this week. From Auto News:
"All these workers are leading the way for all of us right now," Fain said in a 30-minute Facebook Live appearance. "Their fights are a strong reminder that the way workers build power and make gains in bargaining is by having the collective capacity to shut employers down when our employers refuse to not treat our members fairly. I want striking UAW members to know our million-strong union stands in solidarity with you in the fight for justice."

Roughly 400 workers at a Clarios vehicle battery plant near Toledo this week voted down a tentative contract agreement by a wide margin, extending a strike that began May 8. The plant supplies batteries for General Motors and Ford Motor Co.

"It's a shame," Fain said. "These workers aren't asking for the moon. They're asking for a decent wage, and the company's trying to impose a crappy work schedule on them. These workers are holding their ground, and we're behind them 100 percent."

Additionally, about 160 UAW workers at a Constellium Automotive plant in suburban Detroit have been on strike since May 17. Union officials say the workers are concerned about health and safety issues at the plant, which supplies aluminum structures and crash management systems for a number of Ford products, in addition to management's disciplinary practices.

Fain said the two strikes show how the UAW can flex its bargaining power.

"Going out on strike is not something that any of us take lightly," he said. "But when employers leave us no choice, our union is not afraid to act."
On the topic of strikes and collective action, much is made of conditions at the Big Three. But there's just one aspect of the American auto industry, and one group exercising their power is indeed an inspiration to others on the fence, at all levels of the manufacturing chain.
3rd Gear: Merc's Plan For The Future
Excuse us for being a tad tardy to this one, but Mercedes-Benz just had its dealer summit last week, where franchisees learned all about the Silver Arrows' new slate of products that are supposed to help business. One of those appears to be an electric CLA replacement, which you'd figure is exactly the sort of EV Mercedes needs if it wants to rival Tesla on a volume level. Again, our friends at Automotive News:
Mercedes is aiming for EV kingpin Tesla Inc.'s sweet spot with an electric CLA sedan and an electric GLC crossover, indicating Mercedes could ditch the EQ branding for its electric vehicle lineup.


The compact CLA should get 400 miles of driving range and arrive in U.S. stores next year.

Sources described the sedan as larger than the combustion engine CLA but with a sleeker profile. The interior carries over the digital-first cockpit design of Mercedes' current electric models.

The battery-powered CLA will be Mercedes' conquest vehicle for the EV age, aiming to poach Tesla's young, tech-focused consumers. "There's a recognition that CLA brings 60 percent new buyers to the brand," a dealer said.

The electric GLC is a successor to the EQC electric crossover, which was to be Mercedes' first mass-volume EV in the U.S. But that launch was scuttled due to the crossover's limited range, which was deemed inadequate for the market.

The GLC EV will arrive next year with about 300 miles of range and an all-new design.

A dealer described the new crossover as having a rounded front and rear rather than the boxy styling of the combustion engine variant. The EV had a pair of power domes on the hood and a light signature running across the front.
We're told time and time again that SUVs are all anyone wants. But if the best-selling EV globally is a sedan, that means sedans are still viable on some level. I'm looking forward to this CLA.
4th Gear: Mary Barra Visits China
GM's business in China, like that of all foreign makes in the country, is struggling. CEO Mary Barra made a trip to Shanghai this week to see about righting that. From Bloomberg:
Barra met with Shanghai's leader on Wednesday, who encouraged GM to step up investments and research and development in the city, the municipal government said in a statement.

The financial hub's party chief Chen Jining also said the auto industry is a key pillar for Shanghai and the city will continue to improve its business environment and provide better services for Chinese and international companies. Barra said that China remains a key market for GM and she looked forward to developing more clean and intelligent cars with its local partners, according to the statement.

The trip marked Barra's first visit to China since the pandemic, during which time GM's deliveries in the country dropped from 3.09 million vehicles in 2019 to 2.3 million last year, and its share of China's new car market fell from 15% in 2015 to 9.8% in 2022.

The Detroit-headquartered company has joint ventures with local carmakers including SAIC Motor Corp and Wuling Motors, which developed the smash hit Hongguang MiniEV — the best selling model in China last year. But sales for the electric microcar have been slowing and limited EV offerings from other brands such as Cadillac and Chevrolet has seen GM lose market share to Tesla and BYD.
Remember when Buick was all the rage in China like 15 years ago? GM's got to remind the public of that. Stop me if this already happened, but it should give the "is that a Buick?" ad campaign a shot over there.
5th Gear: Drama Between Rivals
Great Wall Motor and BYD are two of many competitors vying for supremacy in China's crowded electrified car market. This week, Great Wall made a rather bold accusation of BYD, telling the government that BYD's two most-popular hybrids are flouting emissions regulations by neglecting to employ pressurized fuel tanks. From Reuters:
Great Wall Motor has filed a report with China's regulators against BYD, it said on Thursday, claiming its rival's two top-selling hybrid models did not meet emissions standards and triggering a rare public spat.

BYD rejected the claim, saying its vehicles met China's emission standards and that it reserved the right to take legal action against Great Wall.

The public accusation from Hebei-based Great Wall - China's first listed car maker - has thrown it into an unusual, open fight with BYD, the country's largest and most successful maker of electric and plug-in hybrid vehicles that has emerged as a rival to Tesla.
Evidently, this did not shake out well for either company's stock performance today:
Hong Kong-listed shares of Great Wall closed down 7.3%. Hong Kong-listed shares of BYD fell 5.4%.

On its WeChat account, Great Wall Motor said it had submitted documents on April 11 to China's ecology and environment ministry, the industry and information ministry and the top market regulator alleging that BYD failed to meet pollutant emissions standards in two plug-in hybrid models.

The three government agencies did not immediately respond to a request for comment from Reuters.

"We firmly oppose any kind of unfair competitive behaviour and reserve the right to sue," BYD said in a statement.
Great Wall has not provided its evidence publicly, and has not yet explained how regulators missed this. BYD is arguing Great Wall must've run its own tests, which weren't conducted to government standards and may have been falsified. Either way, there's nothing like a good old-fashioned brand fight!
Reverse: Definitely A Way To Go
On this day in 1994 — 29 years ago — a Pennsylvania man was apparently buried in his 1984 Corvette, which took the space of 12 burial plots. I'm not kidding; each sentence of this story is wilder than the last. From History.com:
[George] Swanson, a beer distributor and former U.S. Army sergeant during World War II, died the previous March 31 at the age of 71. He had reportedly been planning his automobile burial for some time, buying 12 burial plots at Brush Creek Cemetery, located 25 miles east of Pittsburgh, in order to ensure that his beloved Corvette would fit in his grave with him. After his death, however, the cemetery balked, amid concerns of vandalism and worries that other clients would be offended by the outlandish nature of the burial. They finally relented after weeks of negotiations, but insisted that the burial be private, and that the car be drained of fluids to protect the environment. "George wanted to go out in style, and, indeed, now he will," commented Swanson's lawyer in a report from The Associated Press. "We agree that this is rather elaborate, but really it's no different than being buried in a diamond-studded or gold coffin."


According to the AP, Swanson's widow, Caroline, transported her husband's ashes to the cemetery on the seat of her own white 1993 Corvette. The ashes were then placed on the driver's seat of his 10-year-old car, which had only 27,000 miles on the odometer. Inside the car, mourners also placed a lap quilt made by a group of women from Swanson's church, a love note from his wife and an Engelbert Humperdinck tape in the cassette deck, with the song "Release Me" cued up and ready to play. The license plate read "HI-PAL," which was Swanson's go-to greeting when he didn't remember a name. As 50 mourners looked on, a crane lowered the Corvette into a 7-by-7-by-16-foot hole.
Neutral: What Car Would You Be Buried In?
I'll take a first-gen TT. Can't imagine a prettier pine box, plus it was never much to drive anyway so nobody's missing that much taking one out of circulation.